Stranded with a Hero by Karen Erickson, Coleen Kwan, Cindi Madsen, Roxanne Snopek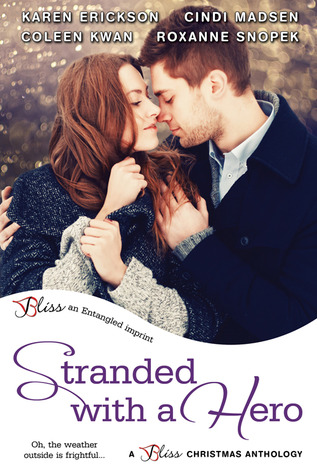 Getting snowed in never felt so good as boundaries are crossed, opposites attract, and friends discovering more promise a Christmas no one will ever forget.
Loving Mindy by Karen Erickson
Mindy McKenzie Fenton and Josh Powers grew up together and were best friends. But the day she broke his heart they were unable to be friends any more. They have both moved on with their lives, but they have been able to keep track of each other through their friends and family.
Now Mindy is alone in the family cabin during the holidays. She expects her family may drop in, but at least alone she doesn't have to pretend she is happy when she has not been in a long time. When the snow starts to come down she is afraid for her cat that has not come back inside.
Only as she walks out to looks for it she soon sees a car in the road in front of her cabin that hit a tree. She just hopes that her cat was not responsible and that the driver is ok. But as she approaches, she soon realizes that the driver is Josh and learns that he swerved trying not to hit her cat. Only problem, his new truck will not start, and with a storm brewing he will have to bunk with her until a tow truck can come get him.
Mindy and Josh have some issues to resolve, and being stranded together in a cabin may just let them open up and be honest about their feelings now.
Rating: 4.5 Stars
White-Hot Holiday by Coleen Kwan
Aaron has arrived in Australia to spend some time with his friend. Only as he arrives he runs over some potted plants and is immediately chastised by a beautiful woman who he believes to be his friend's wife. That is until she introduces herself as Naomi, his friend's niece.
Neither Naomi nor Aaron expect the attraction they feel, but being in close quarters will bring desires that may just not be denied as easily as they want. His friend may have warned Aaron away from Naomi, but he is not the playboy that everyone believes him to be anymore. And Naomi has woken a desire in him that no other woman before her has.
While Naomi may be willing to have a fling with Aaron for the few days he is there, when she learns that Aaron is stranded there since all flights have been canceled she panics. Now it will be up to Aaron to convince her to give him a real chance at something that can last a lifetime.
Rating: 4.5 Stars
An Officer and a Rebel by Cindi Madsen
Kelsey Cooper is on her way to her family for the holidays, but on her way she just has to make a stop at her old town and say goodbye one last time. Unfortunately things don't always go as planned, for as she is in the mountains snow starts to come down, and since she decided to wait to change her bald tires she soon finds herself skidding and almost falling down the side of the mountain.
Nate Walsh was on his way home when he spots a car in a dangerous situation. What he didn't expect was to know the driver and that the driver would be Kelsey Cooper, his little brother's ex-girlfriend. Nate had a bit of a crush on Kelsey when they were younger, but he knows that even now acting on his feelings may not be right.
Since Kelsey needs a place to stay for the time being, Nate takes her to his home. He believes that he can be the perfect gentleman, but the attraction and chemistry is now reciprocated and things may not be as easy as he wishes. For one touch can be more addicting than anything else.
Rating: 4.5 Stars
Saving the Sheriff by Roxanne Snopek
Frankie Silva was determined to save five reindeers from the meat farm, her solution, to take them and release them on Three River Ranch. Only she did not expect them to not want to move from where she dropped them off and look for shelter, or that the trailer she used would get stuck and that she would be unable to leave immediately.
Red LeClaire has volunteered to look after the ranch and the animals while the family went on vacation. But as he is making his rounds he soon finds a truck that seems to be stuck. Something that seems very suspicious to him. As he approaches the driver he expects to have a clear answer, but obviously Frankie is hiding something. For her story and the clues and paperwork don't add up. Now he will have to keep her with him until he can figure out the truth. But with a snowstorm coming and them being unable to leave he will not be able to go into town to verify her story.
Things will not be easy for Red or Frankie, for he is going through his first Christmas after his divorce and she has her own issues to deal with, including possible charges for stealing and trespassing. But being so close together but a few days will make them both realize that maybe them being stranded from others may have been the best thing to happen to them.
Rating: 4.5 Stars
Book Info

November 11th 2013 by Entangled: Bliss
Loving Mindy by Karen Erickson
Mindy can't believe she's stuck with her ex–best friend—and the man whose heart she broke years ago—for the holidays, though the tension between them is more than enough to keep them warm. Josh Powers never forgot Mindy, but he can't risk his heart a second time.
White-Hot Holiday by Coleen Kwan
Naomi's sworn off men like Aaron—rich, cocky, and dismissive of holiday traditions. Aaron decided to spend Christmas in sunny Australia to avoid snowy New York, not to fall for the woman his best friend warned him away from. But when a volcano grounds him, Aaron and Naomi's relationship becomes eruptive.
An Officer and a Rebel by Cindi Madsen
The last person police officer Nate Walsh expected to discover in a snowstorm is his brother's ex and former town rebel, Kelsey Cooper. She's his complete opposite and totally off-limits, but as they wait out the storm together, all he can think is how he wishes she'd stay forever.
Saving the Sheriff by Roxanne Snopek
Frankie Sylva was determined to free the reindeer cruelly held for a holiday roadshow, even if it meant risking her own life. Deputy Sheriff Red LeClair set out to save a stranger in a snowstorm, never expecting he'd be the one to be rescued.