In Thrown by Colette Auclair, Equestrian Amanda Vogel has been forced to put her Olympic dreams on hold so she can concentrate on rebuilding her career. She's taken a job teaching actor Grady Brunswick's daughters to ride and must relocate from Florida to Colorado for the summer. While Amanda is excited to meet the handsome actor, she is not looking forward to dealing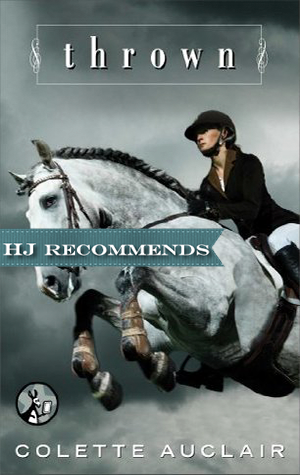 with what she assumes will be spoiled and unruly girls. She's not far off the mark. Not only are the girls running wild, needing some attention and guidance, but Grady proves to be equal parts charming and an overwhelmed single parent.
'She rose up on her toes, wanting to get closer. Wanting more of this kiss. Wanting more of this man who confused her, annoyed her, and bamboozled her with a sweetness and depth he'd only revealed a few minutes earlier.'
After a first memorable encounter with Grady, Amanda falls into a routine with training sessions and her nightly chats with his personal chef, and BFF, Harris. She does her best to ignore the obvious sexual tension between herself and Grady but he won't leave it alone. Once Amanda finally admits to herself what she feels for him, things get complicated as she has to choose whether to chase her dream or chase what could be the love of her life.
'…he was positive that Amanda–his daughters' strong-willed, independent, restrained, tenacious, sexy, distantly professional, argumentative, sometimes annoying, often alluring, Emmy-dropping riding instructor–had just come perilously close to kissing him.'
Grady Brunswick is an A-list actor who is still trying to get the hang of parenting on his own since losing his wife. He's decided to hire Amanda to give his daughters riding lessons as they both love horses. Grady likes what he sees in Amanda and begins to devise a plan to see where their attraction will take them. She resists at first, wanting to keep their relationship professional, but he can tell she feels the same way about him. Grady isn't perfect and makes the occasional misstep in his pursuit, but he hopes he can offer her a good enough reason to give him a chance.
Thrown is a heartwarming story filled with funny, quirky moments. It centers on a man and a woman finding their way through life's craziness and attempting to make a lasting connection through it all.
I really enjoyed this story and thought Colette Auclair's writing style had a wonderful flow to it. Each scene was set up perfectly and I connected with the characters easily. I may have had moments when I didn't want to like Grady…he had a bit of a spoiled actor ego going on, but I couldn't stay mad at him. He would always do something to redeem himself! The secondary characters were all well developed, but I admit my favorite was Harris. So. Funny. I think we all deserve to have a close friend as witty and hysterical as he was.
It was so much fun to get to know Amanda and Grady. They both had a great sense of humor and were just really good people who were very caring and wanted to do the right thing. I thought it was so interesting how Grady was successful, seemed so together all the time, yet he doubted himself as a father and felt unsure around his mother. It caused him to second guess himself when he normally would be quite decisive. He was overprotective of his daughters, and rightly so, given that he lost his wife tragically. I loved that Amanda was able to tune in to the girls needs and help Grady find a balance between being their father and still enjoying time with them. They made a great team. Amanda had her own demons to fight, which caused some friction between them. I thought the fact that she presented herself as a strong person while she was struggling on the inside was something many of us can relate to.
Overall, I think Thrown is a wonderful romance. If you love stories based around personal growth that include a myriad of emotions, and a lot of horse-talk, you would be hard-pressed to not enjoy this one!
Book Info:

HJ Recommends
Published December 16th 2013 by Pocket Star
THROWN is a lighthearted yet steamy contemporary romance by Golden Heart finalist Colette Auclair, featuring a young woman who must choose between capturing a gold medal and the man who's captured her heart.
In THROWN, professional trainer Amanda Vogel dreams of riding jumpers in the Olympics, but after seeing her best friend die in a riding accident, she's so traumatized she can't show. Broke and desperate, she takes a summer job in Aspen teaching some big-shot widowed movie star's spoiled daughters to ride—even though she hates teaching kids. She braces herself for three miserable months. But by Labor Day, she has to choose between capturing a gold medal…and the man who has captured her heart.
THROWN was a 2012 Golden Heart finalist in the single-title contemporary romance category. It also won the 2011 Winter Rose Contest (Yellow Rose Romance Writers) and finaled in the 2011 Cleveland Rocks Romance Contest (North East Ohio Romance Writers Association).