In A Certain Summer by Patricia Beard, Helen Wadsworth and her son Jack are spending the summer of 1948 at their family home on the island of Wauregan. She is still waiting in the hope that her husband Arthur, who has been MIA for a few years, will return to their lives. But with each passing summer, as she watches her son grow and forget memories of his father, she feels her hope dwindling. She is stuck in limbo it seems and she can't move forward with her life until she gets an answer.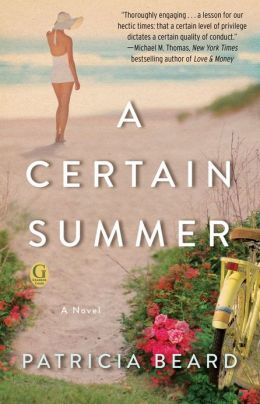 Helen asks her husband's good friend Frank Hartman to use his resources at the CIA to find out what happened to Arthur after he was captured by the Gestapo. Frank was on the mission with him at the time so he knew the location he was taken from. He is also Jack's godfather so he tries to keep in contact with them both and make sure they are safe. Helen appreciates his consideration but begins to notice when he visits that he pays closer attention to her than a friend generally would. Her friends also notice this and she wonders if she could see herself in a relationship with Frank if and when it is time to move on.
The Wadsworth's next door neighbor on the island is an elderly man everyone calls Judge. His nephew Peter Gavin is spending the summer with him upon returning from his rehabilitation after serving in the war. Helen had met Peter over the years but never to spend any time with him other than at basic social gatherings. She can't help but notice how handsome he is and sees that he seems to be struggling with some internal emotions. Peter's ever present german shepherd Max becomes the catalyst for Jack to come out of his shell and it pulls him into their lives. It's obvious that there is a strong connection between Helen and Peter but she thinks due to him being several years younger, he would be better off with someone closer to his own age. Helen finds herself in more emotional turmoil once more details start to emerge about Arthur's capture. Not sure who to believe in, she struggles to come to terms with her husband's possible death, her son maturing and going away to boarding school, and her confusing emotions regarding Frank and Peter.
This novel by Patricia Beard is part history lesson, part romance…and chock full of emotions. There were so many changes taking place in the world in the mid to late 40s once the war ended and people had to try to go back to their "normal" lives. She captures the situation perfectly and shows the hardships the wives dealt with at home along with the horror their husbands faced at war only to struggle with their personal lives once back stateside. Helen's personal struggle is heart-wrenching to read yet at the same time is so intriguing that it was hard to put the book down. I would definitely recommend this if you're a fan of romance with a lot of emotions and history involved.
Book Info
Publisher: Gallery Books; Original edition (May 21, 2013)
"Nothing ever changes at Wauregan." That mystique is the tradition of the idyllic island colony off the shore of Long Island, the comforting tradition that its summer dwellers have lived by for over half a century. But in the summer of 1948, after a world war has claimed countless men—even those who came home—the time has come to deal with history's indelible scars.
Helen Wadsworth's husband, Arthur, was declared missing in action during an OSS operation in France, but the official explanation was mysteriously nebulous. Now raising a teenage son who longs to know the truth about his father, Helen turns to Frank Hartman—her husband's best friend and his partner on the mission when he disappeared. Frank, however, seems more intent on filling the void in Helen's life that Arthur's absence has left. As Helen's affection for Frank grows, so does her guilt, especially when Peter Gavin, a handsome Marine who was brutally tortured by the Japanese and has returned with a faithful war dog, unexpectedly stirs new desires. With her heart pulled in multiple directions, Helen doesn't know whom to trust—especially when a shocking discovery forever alters her perception of both love and war.
Part mystery, part love story, and part insider's view of a very private world, A Certain Summer resonates in the heart long after the last page is turned.