In A Rich Man's Whim by Lynne Graham Kat is an unassuming B&B owner who took responsibility for her younger sisters when her mother gave them up to foster care. She spent years of her life trying to eke out a living while giving her half-siblings the best educations, health care, and the opportunity to live their lives the way she never got to. When the bank sends the final notice on the house in which they live and make their meager living, she loses all hope that faith will provide.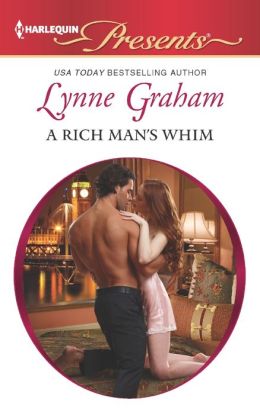 Mikhail Kusnirovich eschews marriage. His father was obsessed to the point of utter and total domination over his mother, and he refuses to follow in his footsteps. To that end, being a young and amazingly handsome billionaire doesn't hurt. He always gets his way, and that includes in bed. His friend Luka is getting married, and as their bachelor's getaway, they take to the mountains. A snowstorm hits and when the groom twists his ankle, they take refuge at Kat's little haven.
Mikhail is drawn to her immediately, but she doesn't return his interest. In fact, she's skittish and reluctant to even meet his gaze. He decides to act on his attraction for her, and she flatly turns down his advances. It rankles, but he knows there are many fish in the sea.
After returning home to London, he realizes he can't get the naive woman out of his head, so he has his right-hand man do some research. They discover her financial woes, and he concocts a plan that she won't be able to turn down. He purchases her house and then presents her with an offer – she accompanies him on his yacht for a month as his hostess and he'll sign the house back over to her, part and parcel.
She balks at the idea, after all, she would've lost the house eventually – why should she sell herself to get it back? However, when she thinks about providing for her family she has to resign herself to accepting Mikhail's offer. Kat manages to set some boundaries since she isn't willing to give up her 35-year old virginity to a man who just sees her as a challenge. He agrees, but only because he's convinced he will change her mind.
Mikhail is stunned when she continues to stand up to him, and even more so when he's shaken to his core at his reaction. He behaves like a neanderthal towards her when he's never had to do so much as blink an eye to get other women's attention.
She eventually gives in, and when the month is up, she prepares to leave as they agreed. Kat tries several times to refuse to take the house because it makes her feel cheap, but Mikhail is offended by even the suggestion that he paid for her company in his bed (even though he kinda did). When it comes time for her to board the helicopter, he picks her up and takes her back to his cabin – unable to let her go.
He asks her to move in with him, and he treats her sisters like he would if they were his own family, which confuses Kat immensely. There have been no mentions of love from Mikhail, nor does she expect them. All she knows is that she's fallen in love with him and will take what he's willing to give her.
There's quite a bit of drama concerning jealousy and accusations of infidelity which I definitely expected. Mikhail is not sympathetic at all, and I found Kat sometimes absolutely simpering – even though she's supposed to be spunky and resistant to his charms. After Mikhail tells her about his parents and how he never wants to be like them, I thought he was being a bit hypocritical to think he wasn't acting like his father. He was. Absolutely. Domineering, Alpha-male all the way. And she always gave in. They spent one night apart, and it came back to bite her in the ass near the end of the book. Not the best message to send in my opinion.
Have you ever read a book that's well written, but you just can't connect to the characters? That was my experience with "A Rich Man's Whim". However, Lynne writes exquisitely with great detail, and it was easy to read the whole book even though I wasn't enamored with the main characters. I have to give this 3 hearts, even though I'd like to like it more.
Book Info
Publication Date: April 23, 2013 | Series: Harlequin Presents (Book 3137)
A month with the ruthless Russian…
Kat Marshall has sacrificed everything for her younger sisters. And with money tighter than ever, she's in desperate need of help. Innocent Kat has hidden her dreams away until she meets enigmatic Russian, Mikhail Kusnirovich, whose outrageous offer could make them all come true….
Billionaire Mikhail doesn't have dreams. He has money, lots of it, and he always gets what he wants. Bedding Kat should be easy, but the tempting redhead is impossible to seduce! So Mikhail offers to pay off her debts—in exchange for a month on his yacht, and in his cabin, virginity included!