Skin in the Game by Jackie Barbosa is a fresh and original sports themed romance with well designed, pragmatic characters. This fast-paced read is engaging and hot.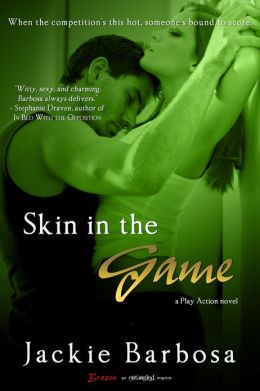 This book is primarily about two people, Angie Peterson and Cade Reynolds. Both Angie and Cade grew up in the small town of Harper Falls, Minnesota. Angie loves her job as a high school math teacher and assistant football coach. She is smart, gorgeous and looks after her widowed father. Cade Reynolds is a very good looking professional football player. Due to an injury, Cade has been out of the game and limelight for a while. He returns to Harper Falls to temporarily coach the football team, while the head coach recuperates from an illness.
Angie and Cade meet while getting coffee at Cafe du Coeur. It has been sixteen years since they have last seen each other and now there is an immediate attraction. A hot, emotional relationship develops as their future unfolds and takes form.
I highly recommend this book. The small subplot about the risky football play was a bit of a turnoff for me, however, the rest of the story made up for it. The author's writing style flows effortlessly and keeps you captivated.
Book Info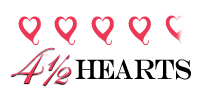 Publisher: Entangled: Brazen (May 27, 2013)
Angela Peterson was always the quiet, shy kid growing up in Harper Falls, crushing on the high school quarterback and honing her football strategy skills. Now grown up and coaching the high school team, she's shocked when that same sexy quarterback returns to Harper Falls asks her back to his hotel room. And then tries to steal her job.
Injured NFL quarterback Cade Reynolds is in Harper Falls to take over as interim head coach, and he never thought the tall, blond bombshell he propositioned would offer up any resistance. Not to a repeat of the amazingly wild night they shared and certainly not to his coaching position.
But the Harper Falls High Eagles are Angie's team, and even the hometown hero won't take that away from her, no matter how hot he is. As the two engage in a battle of wits and wills, this is one game neither is prepared to lose.