In A Chance this Christmas (Road to Romance #3) by Joanne Rock, Rachel Chambers hasn't been back to Yuletide in eight years,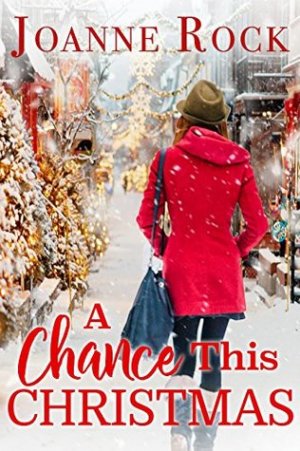 not after the scandal that saw her family's good name get dragged through the mud and stay there because of her father's wrong choices. However, she had her own reasons for leaving when she kissed her boyfriend's best friend. Now though, Rachel is ready to face the past and hopefully make amends, but it seems what she wants isn't going to be easy. Yet, she faces an even tougher challenge than winning over the people angry at her, and that's resisting the charms of Gavin Blake. Will Rachel be able to stick to her reasons for returning home, or will she succumb to Gavin all over again?
"I'll stay for the party," she agreed, knowing she'd probably regret it. "No promise about the rest of the week."
"Good." His grin stole her breath it was so damn dazzling. After giving her arm a squeeze, he let her go. "It's a Christmas Karaoke party. You can guess accordingly, if you like."
And just like that, she felt her chest tighten again, a wheeze sure to follow. "Christmas Karaoke?" Sliding out of the truck, she inhaled the cold night air, the scent of pine filling the air. "With costumes?"
"It'll be fun," he assured her. "You just need to find your holiday spirit."
Ms. Rock has penned a wonderful read in this book where the heroine goes through tough times to win people over and the hero does everything in his power to help her combat the townspeople's animosity towards her. Will she win over her ex and make him realize that she had nothing to do with her father's betrayal of the good people of Yuletide, even though it seemed suspicious that she left town when she did? Will Gavin be able to help her? The way this story started had me sympathizing with the heroine, as she hasn't been back to her hometown in eight years, not since the scandal that rocked her family and made her feel as though she did wrong all because of what her father did. Will she leave town just as soon as she's completed her task? However, it was from the moment the hero and heroine come face-to-face for the first time in this story that I absolutely loved, as Rachel isn't inclined to be friendly with all she's already faced in only being in town for so little time. Yet, I loved that the hero is one person besides her mother that is determined to welcome her and make her feel as though she's wanted.
As for the dialogue, it was intense due to the main characters back stories, especially that of the heroine, as she's been through so much because of what her father did and how things ended with her ex that leaves her the most disliked person amongst some of the townspeople. Moreover, the heroine really surprised me with her determination to win her ex's forgiveness and move on with her life to be with Gavin. I also liked that she would do anything to make things easier for the one female friend in Yuletide that wants her there, which is proven by what she does to avoid situations where its likely she'll have someone determined not to have her stick around. Will she end up leaving town because no-one wants to forgive her actions before she left town years ago?
"I thought you were supposed to be leading your friends in a raucous party before Luke ties the knot."
"I did all the raucous partying I cared to do." He shrugged. "I'm in training for one thing." He didn't take his performance lightly. "And for another, I knew all day that I wanted to try and see you tonight."
She stared up at him with wide blue eyes, her dark bangs brushing the tops of her eyebrows. "The traditional approach is to arrange a meeting day ahead of time."
"Which isn't easy when you don't answer my calls or texts."
"So you pelt my windows with snowballs?" She shivered, hugging her cape tighter.
"You used to like sneaking out at night," he reasoned. "I did it for old time's sake."
While the hero, he's confident; competitive when it comes to being the best he can as an athlete, which is evident by how much he's achieved; and I liked how determined he was to help and protect the heroine from anyone that was looking to cause trouble for her. I also liked how tenacious the hero was when it come to winning Rachel over, even though it's palpable she doesn't plan on staying in town once she's managed to achieve what she came to Yuletide to do. Yet, what I liked most of all about the hero was his plans for life after his sporting career and that he made certain that Rachel knew how much he wanted her in his life.
Overall, Ms. Rock has delivered a fantastic and absolutely riveting read in this book where the chemistry between this couple was heady and convincing; the romance had me captivated, as Gavin and Rachel are perfect together; and the ending had me smiling and had happy tears welling in my eyes because of Gavin's words to the heroine that proves he wants a future with her. However, it was the epilogue that wrapped this story up perfectly, as Rachel finally gets closure on the past in learning what happened to her dad and Gavin is determined to prove how committed he is to Rachel. I would recommend A Chance at Christmas by Joanne Rock, if you enjoy the friends to lovers trope or books by authors Joan Kilby, Eve Gaddy, Karen Foley and Scarlet Wilson.

Book Info:

Publication: October 5th, 2017 | Tule Publishing | Road to Romance #3
Growing up in the Christmas-crazed theme town of Yuletide was fun for fashion designer Rachel Chambers until a family scandal made her unwelcome. Eight years later, she's home for a friend's wedding and trying to go incognito… until her old flame spots her.
Snowboarder Gavin Blake wants to make things right with Rachel, and smoothing her way back in Yuletide seems like the best way to do just that. Making Rachel his date for a week of pre-wedding parties is sure to bring them closer. Except he underestimated how long a small town can carry a grudge–or how much the memory of a long-ago kiss could tempt him all over again.
As the wedding approaches, Rachel remembers all she loved about her close-knit, Christmas-loving neighbors. But even if she can win over the town again, will she be able to convince her footloose, mogul-shredding wedding date that they can find happiness beyond the holidays?