In A Change of Heart by Sonali Dev, Losing his wife Jen shattered Dr.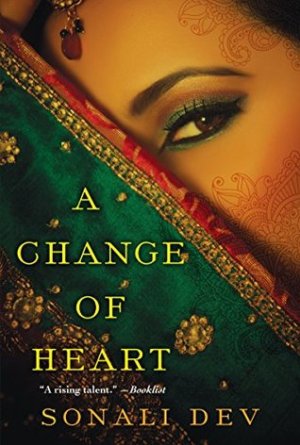 Nikhil 'Nic' Joshi and has left him a broken man. The two years they had together was just not enough and he aches every day to see her beautiful face one more time. Alcohol numbs the pain but it's a temporary reprieve as the memories of her murder haunt him. So when a woman claiming to have received Jen's heart after a transplant tells him Jen has been communicating with her, Nic scoffs at the idea. But Jess Koirala knows things that no one but his wife would have known. As they set out on a journey to find the information that ultimately got his wife killed, details about black market organ transplants, he has no idea of the emotions he'll have to process to make it through or the bond that he'll form with Jess.
"I have your wife's heart," she said so quietly that if the words had been any different he would never have heard them.
A surgical scar.
Holy mother of God.
Jen's heart.
She had Jen's heart.
…Jen's heart was right here, her DNA, her tissue, her. Alive and breathing.
Jess will do anything to keep her beloved son Joy safe, even if it means traveling all the way from India to America in search of much needed information. She's counting on her connection with Jen Joshi to allow her to get into contact with Nic and get his help. But Jess finds Nic in tough shape, emotionally and physically. He's a shell of the doctor he used to be, engulfed in pain and grief. Something she is all too familiar with. So she helps Nic fight his demons which unfortunately brings her own horrific past back to the forefront. Jess hopes that together they can find the answers needed and they can walk away with what they each need out of their newfound relationship without causing more emotional damage.
'Right in this moment, nothing could separate them. They were each other's only support. Solace all the more precious because they had found it nowhere else.'
A Change of Heart was a heavy, dark tale of two tortured souls who were forced together but who also found themselves with the chance to heal each other. Written with Sonali Dev's beautiful, wonderfully detailed prose, this was a story that will stick with readers well after they've finished reading it.
'People think secrets are about lies, or shame. But what secrets are really about is fear.'
I have to start off with a warning. This novel deals with subjects that are bound to be triggers for some readers so be aware that it delves into kidnapping, rape, murder, crimes against women, and even organ donor black markets. There were several scenes that were graphic in their depiction of the events that took place and it was absolutely heartbreaking. But I think Sonali Dev did a fantastic job writing those passages in a realistic, gritty, unforgiving way to shed light on the horrific things that can and do happen to people, in this case especially women, all over the world. It was integral to the storyline and was what ultimately brought our main characters together. Which, to me, was a way of showing how something good and solid can sometimes come from the dark times in life.
If you've read The Bollywood Bride, then you've already 'met' Nikhil Joshi. His wedding to Jen was what brought together his family in Chicago and was the catalyst for Ria and Vik's story in that book. So this time we got a reunion and saw how things had changed for everyone since then. This can definitely be read as a standalone, though, if you're new to Dev's writing. I really liked getting to know Nik better, although I wish it would have been under better circumstances than watching his life deteriorate after his wife was murdered. He was such a compassionate, loving, gentle soul who wanted nothing better than to help and heal people. But losing Jen gutted Nik emotionally and it was honestly quite painful to see. His metamorphosis was slow but was gratifying as we saw him finally coping with what happened and trying to move on, day by day.
Jess's background was probably what got to me the most, as a woman. She went through unimaginable horrors in her twenty-five years but she remained strong and steadfast in what needed to be done. I loved that her son Joy was literally that–the one piece of joy in her life, the one source of love and contentment she had ever had. The decision Jess was forced to make to keep her son safe is one that will likely be controversial, with each reader having to make up their mind how they would have handled things. But I think no one would deny that she was exactly what Nik needed and vice versa. They both knew the depths of despair, grief and loss and could fully understand what each other was going through.
With bits of suspense, mystery, and romance, A Change of Heart took me on an emotional roller coaster ride. It broke my heart, making me want to weep for the way people are treated, but it also gave me hope that good can win over evil. That love can heal and conquer. And that those who do the right thing will get their chance to have their dreams come true.

Book Info:

Publication: September 27th 2016 | Kensington |
"A rising talent." —Booklist
Dr. Nikhil 'Nic' Joshi had it all—marriage, career, purpose. Until, while working for Doctors Without Borders in a Mumbai slum, his wife, Jen, discovered a black market organ transplant ring. Before she could expose the truth, Jen was killed.
Two years after the tragedy, Nic is a cruise ship doctor who spends his days treating seasickness and sunburn and his nights in a boozy haze. On one of those blurry evenings on deck, Nic meets a woman who makes a startling claim: she received Jen's heart in a transplant and has a message for him. Nic wants to discount Jess Koirala's story as absurd, but there's something about her reckless desperation that resonates despite his doubts.
Jess has spent years working her way out of a nightmarish life in Calcutta and into a respectable Bollywood dance troupe. Now she faces losing the one thing that matters—her young son, Joy. She needs to uncover the secrets Jen risked everything for; but the unforeseen bond that results between her and Nic is both a lifeline and a perilous complication.
Delving beyond the surface of modern Indian-American life, acclaimed author Sonali Dev's page-turning novel is both riveting and emotionally rewarding—an extraordinary story of human connection, bravery, and hope.
Praise for Sonali Dev and Her Novels
"Sonali Dev is a gifted writer who creates characters that capture the heart… I can't wait for Sonali's next book." —Nalini Singh, New York Times bestselling author
"Exquisitely written… A bright, beautiful gem." —Kirkus Reviews, Starred Review, on The Bollywood Bride
"Dev's prose captures the rich and unique beauty of Indian culture while telling a story that is complex, culturally accurate, and full of emotion." —Booklist on The Bollywood Bride
"Vibrant and exuberantly romantic…chock full of details that reflect India's social and cultural flux." —NPR.com on A Bollywood Affair