Red Lace (The Hard Men of the Rockies) by Kym Roberts: Kym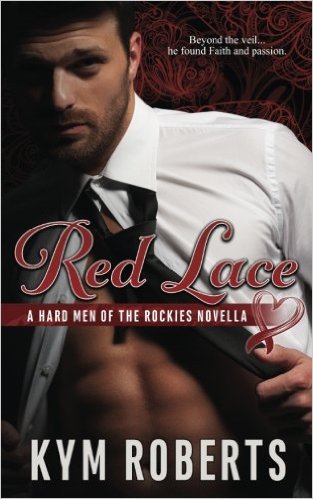 Roberts throws us right into the action from the start of Red Lace when Ty is injured, fighting not only for his life, but for the people he was supposed to protect. In the cold darkness of a snowy night, and unexpected angel in red lace saves him…then disappears. Is it coincidence or fate when they find themselves meeting up under much different circumstances? Heat simmers below the surface as their mutual attraction grows. There are unknowns, doubts, and trust issues in their path though, and they might just be too much to overcome, even if they both know what and who they really want.
This was the first book I read in The Hard Men of the Rockies series, and as much as Ty was, I was in a bit of a daze at the beginning about what was going on. However with a good pace and great writing, Kym had me drawn into Red Lace quickly and I enjoyed the journey I went on with Ty and Faith! They both have some issues that have brought them to where they are today, and I liked feeling like I was getting into their heads through dual POV's. The heat between them simmers. They are very attracted to one another, but the relationship is slow to build which worked well with the plot. This really highlighted the growth these characters did in the span of this novella.
Rosie, Ty's grandmother is a strong secondary character and I absolutely adore her and she works her way into everything!
The length of Red Lace was just right for the story being told. I liked that it started fast and just kept going! Hopeful, sweet and sexy, any romance reader will enjoy Red Lace.

Book Info:

Published: September 15th 2016 by Kym Roberts |  The Hard Men of the Rockies
He knocked on death's door, but she refused to let him walk in…
Ty Beckinsale was a dead man…until an angel in red lace saved him and disappeared into the night. Tortured with memories but unable to pursue leads to determine her identity until after he recovers, Ty seeks the assistance of the experts at Achilles HeAl, a private physical rehab facility for the rich and famous. Or in his case, the infamous—an ex-Secret Service Agent hell-bent on avoiding the media. His road to recovery, however, leads him straight to the woman he can't forget—a woman he vows to protect from a past he can't leave behind.
Fear consumes her, drives her to build walls no one can penetrate…
Secrets and lies have driven Faith Artino to turn her business into a compound. She's secure, safe and satisfied with life. Until Ty Beckinsale walks in and knocks down all her barriers with a chemistry she can't deny. But her fear of betrayal stops her from seizing the moment and from taking what she wants more than anything else—a passion so strong, it can't be destroyed.
A life-time sentence of loneliness awaits, unless Faith opens her door to the one man who's stolen her heart.