A Charmed Little Lie (Charmed in Texas #1) by Sharla Lovelace has a little bit of everything, it has humor, it has romance, and of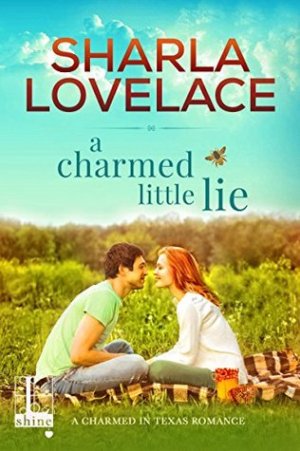 course, just a tiny little lie, or is it. This is the first book is what looks to be an amazing new series, and I for one look forward to more. This is the story of Lanie and Nick.
Lanie Barrett only wants to give her favorite Aunt her dying wish, to know that she is in love and ready to get married. So what does she do, she spins a tail that is so spectacular that she is now caught in the web. She needs to show up at the reading of the will with Husband in tow. What is she going to do???? Find a husband and fast, in he most unlikely of places of course.
Nick McKane is down to his last dollar and in need of a plan. He has a daughter that needs college tution and is willing to do anything to work. Well, when Lanie give him her hairbrain scheme of being her pretend husband, although a little on the strange side, Nick jumps right in. The problem is that the longer they are "married" the more the feeling start to become all too real.
I loved Nick and Lanie. They are truly a match made in heaven. As they try to maneuver around each other keeping their distance, they cannot help but be pulled together. I loved that they were not looking for love, but it found them anyway. Who says that dreams don't come true, when the right one comes along. An amazing start to a great series.

Book Info:

Publication: Published April 18th 2017 | Lyrical Shine | Charmed in Texas #1
Charmed, Texas… quaint, quirky, and when it comes to romance, there's no place quite as enchanting.
Lanie Barrett didn't mean to lie. Spinning a story of a joyous marriage to make a dying woman happy is forgivable, isn't it? Lanie thinks so, especially since her beloved Aunt Ruby would have been heartbroken to know the truth of her niece's sadly loveless, short-of-sparkling existence. Trouble is, according to the will, Ruby didn't quite buy Lanie's tale. And to inherit the only house Lanie ever really considered a home, she'll have to bring her "husband" back to Charmed for three whole months–or watch Aunt Ruby's cozy nest go to her weasel cousin, who will sell it to a condo developer.
Nick McKane is out of work, out of luck, and the spitting image of the man Lanie described. He needs money for his daughter's art school tuition, and Lanie needs a convenient spouse. It's a match made… well, not quite in heaven, but for a temporary arrangement, it couldn't be better. Except the longer Lanie and Nick spend as husband and wife, the more the connection between them begins to seem real. Maybe this modern fairy tale really could come true…