In Meet Me at Beachcomber Bay by Jill Mansell, The residents of St. Carys have a gorgeous ocean to enjoy in their backyard, a town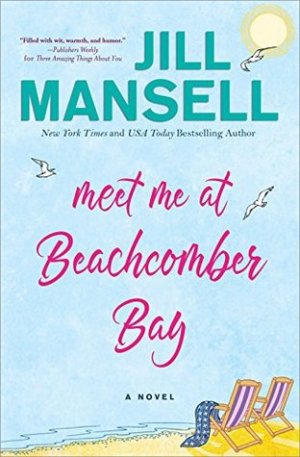 full of interesting people to get to know, and like most small towns, plenty of hidden secrets. And it's those secrets that end up creating drama in the lives of a local group of friends and family, setting them on a path where everyone will have to make their own tough personal choices. Not that they haven't already each been through their own predicaments in the past. But this time, the stakes become even higher for some of them.
Ronan's brown eyes glittered. "You know what? It's not easy being rejected."
She patted his arm. "I'm sure you'll survive."
"Tell me, am I still slightly irresistible?"
Clemency paused. "Maybe. A tiny bit."
Ronan broke into a grin. "Phew, thank goodness for that."
Step-sisters Clemency and Belle find themselves at odds over a man, after having made a promise to never let the opposite sex cause a rift between them again. Suave and sexy Sam is moving forward after a recent tragedy shook his whole world. Charming Ronan is struggling for the first time ever with a woman, their wires getting crossed each time he thinks they'll finally have their chance. And that's in addition to his own family issues. Plus, compassionate painter Marina's new life since her divorce is still complicated but is slowly getting better. She hopes. With everyone's lives tangled up with each other, will this motley crew ever wind up with happily-ever-afters all the way around?
'Sometimes, wonderful things did happen, out of the blue and for no apparent reason. And what else could you do but go along with it and just be grateful that the person you loved more than anyone else in the world loved you too?'
Meet Me at Beachcomber Bay was an absolutely charming story by the one and only Jill Mansell. Set in the beautiful (fictional) seaside town of St. Carys in the UK, this book was filled with heart and a whole bunch of comical antics from our eclectic but lovable cast.
'What was happening now, she knew, threatened to bring a whole world of trouble into her carefully mapped out, oh-so-perfect life.'
I had a fantastic time with the latest novel by Jill Mansell, which to me was a combination of women's literature and romantic comedy. This kind of small town storyline, with the characters' lives intersecting and wreaking havoc on each other, is where I think this author truly shines. And I loved the group of people we got to know this time. I pretty much liked all of them immediately, with only one character kind of getting my back up a bit–Belle. But even she had redeeming qualities, with her in-your-face attitude that made me laugh more than it annoyed me. Plus, when we learn of a secret Belle had been keeping towards the end of the book, I think her attitude will make sense to readers and the resolution will seem perfect.
As I've come to love and expect from Mansell, this read like a madcap but heartfelt British soap opera, with plenty of laughs along the way. I liked that each character seemed flawed and real, with their own unique set of circumstances that influenced their actions and decisions. The majority of them, including Sam, Marina, and Clemency, had tragedy or painful losses in their past that had my heart breaking for them. But every character was a fighter/survivor in their own way. And I loved that they drew strength from their friendships as well as from their local beachside community. Ronan particularly was one of my favorite characters and I adored his sense of humor and his love for his entire family.
With an epilogue that had me all misty-eyed and an intricate storyline that continued to build speed as it went along, Meet Me at Beachcomber Bay was a lovely way to spend a few hours. I think this would be a great addition to any reader's summertime must-have-books list.

Book Info:

Publication: Published May 2nd 2017 | Sourcebooks Landmark |
International bestseller Jill Mansell weaves a heartwarming tale of love, family and friendship in her latest novel
1. A brief encounter that could have become so much more…if only everything were different
2. Step-sisters, bitter rivals in every area except one—by unbreakable pact neither will ever steal a man from the other
3. A love triangle that starts out as a mess of secrets and mix-ups, and only gets worse from there
Plus!
Friendship, family ties, crossed wires and self-discovery, second chances and first impressions
Welcome to Jill Mansell's blustery seaside world. Once you step inside, you'll never want to leave!
"Jill Mansell keeps on getting better…" —Good Housekeeping
"Heart-warming and heart-wrenching…witty and warm… Readers will hang on every word." —RT Book Reviews for Three Amazing Things About You, 4 Stars