In A Christmas Kiss with her Ex-Army Doc by Tina Beckett, Holly Cantrell never thought she'd see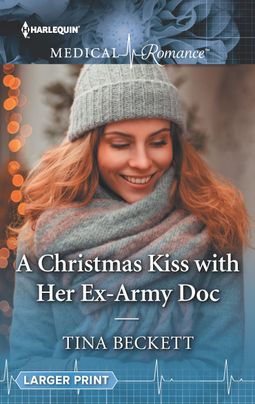 Clancy deOliviera ever again, not after she kissed him and then ended up marrying his best friend. However, now they're working at the same hospital where it's very hard to avoid each other. Will Holly and Clancy be able to let go of the past to have a future together or does too much stand between them for the pair to ever truly be happy together?
"How are you settling in at the hospital?"
He leaned back on his elbows. "It's a big change from what I'm used to, but I'm enjoying it. Obviously, I get more pediatric cases here than I did in the military."
"Those have to be hard."
He shifted to look at her. "They're different. A lot of them are due to accidents or burns, which definitely makes you stop and think."
"Think? About what?"
"About what would have happened if things had turned out differently. About the long-term effects of a split decision."
This story is Ms. Beckett at her best. Really, it's a charming and delightful story encompassing a resilient heroine that put up with a lot in her marriage; a hero that didn't think he was good enough for the heroine in the past so he gave up his shot with her; entertaining dialogue that had me reading quickly determined to discover if the hero and heroine would get their second chance at happy ever after; and the plot was so engaging and had me enjoying the obstacles these two faced to be together, especially since the heroine is the widow of the hero's late best friend.
The way this story with the prologue drew me into the story immediately, as it wasn't easy for the heroine to deal with what's going on in her life and it's understandable why her life ends up taking a different course than the one she was on. No longer does she have her marriage to hold her back. However, it was from the moment the hero and heroine come face-to-face for the first time where this story really gets interesting, as these two have quite the history. Really, Holly was the woman in his past he was once very interested in but had doubts about getting involved with. Then again, his supposed best friend wasn't the good guy Clancy once thought he was. Why did Clancy ever listen to him?
She sighed. "Is it weird to think that this baby and Randy are the best things we've done since coming here?"
Since he'd had the same thought, he shook his head. "No, I felt it too. But I'm sure all the patients we've seen the last two weeks have been appreciative." He knew they had. He'd heard thank-yous from almost everyone they'd treated, despite the long waiting times.
"They have. It's just that it's almost Christmas. And after seeing all the hardship Bender has gone through, today felt like a miracle. A pre-Christmas miracle. Working at the hospital, I sometimes lose sight of those kind of things. I think I'd like to come back to Bender to help as they get back on their feet."
With the main characters, I was completely captivated by Clancy. He's a wonderful hero that's worked hard to get to where he is in life. He's also compassionate, sincere, kind, caring and I could understand why he wanted to protect Holly from secrets of the past. I also liked the close relationship he had with his sister and that they would do anything for each other, which is proven by what Clancy's sister does for him when it comes to his chance at happiness. While the heroine, she's resilient, courageous, a good nurse and I liked that she gave Clancy a chance, even though there's so much history between them. Then again, there's so much regret too because of decisions they both made in the past. Will they make the right decision this time? Will Clancy realise that he's always been the better man for Holly than her husband ever was?
Overall, Ms. Beckett has delivered a heart-warming tale in this book where second chances are possible if one is willing to take the chance; and where the chemistry between this couple was strong right the moment they come face-to-face for the first time in years; the romance was delightful and well worth the wait, as there's always been a strong pull between these two and it's about time they acted on it; and the ending had me loving this couple's determination to fix what breaks in their growing relationship and push for a future together. Since they're so good together and deserve the happiness they've found and shouldn't allow anything to keep them apart, especially things that happened in the past. I would recommend A Christmas Kiss with her Ex-Army Doc by Tina Beckett, if you enjoy second chance romances, medical romances or books by authors Amalie Berlin, Amy Ruttan, Annie O'Neil and Robin Gianna.
Book Info:

Publication: November 1st, 2019 | Harlequin Medical |
Can a Christmas kiss…lead to their happy-ever-after?
Nurse Hollee Cantrell is stunned when ex-army doc Clancy deOliveira begins working at her hospital. Years ago, they shared a passionate kiss—but then Clancy left and Hollee married his best friend. Now widowed, it's time for Hollee to admit that her marriage was a sham and she's never stopped thinking about Clancy. And as their desire reignites, it seems Clancy hasn't forgotten her either…