The One for You by Roni Loren: Kincaid is outgoing, energetic, and has an energy that draws others to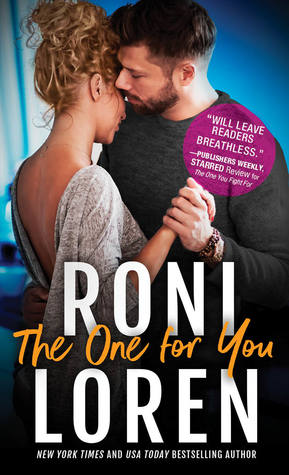 her. While she may not love being a real estate agent, it does pay the bills and ensures she has a safe and comfortable life and can sock money away. She believes in relationships, but between losing her first love, Graham, in a tragic high school shooting and then never finding anyone who could match up to that ideal, she's avoiding relationships.
Ashton has made his dream come true and he's now a successful author. He's been able to travel the world and avoid his hometown all so he could put the past in the past and firmly reinvent himself. Between the end of his engagement and a case of writers block, he's unhappily back in his hometown.
Kincaid and Ash were the best of friends. They were always there for each other, no matter what, until it all fell apart after the shooting. Both have struggled with the loss of their friendship ever since, especially since both are close to Graham's parents. Kincaid is surprised to stumble upon Ash one day and it doesn't go well. It doesn't help when both are asked for a favor that will require them to work together.
She couldn't help but smile at that. "Well, you don't have to worry about that now. You're not a stranger."
He made a dismissive sound. "Aren't I?"
Her smile fell. "What?"
"Let's not pretend." He crossed his arms, a grim look on his face. "That's exactly what we are to each other now."
Kincaid was always the one who got away for Ash. He loved her through high school and he quickly learns that he's still attracted to her now. By working together they are able to resume their friendship and get that part of themselves back. One problem is that Kincaid is majorly attracted to her best friend and he's not staying. There's a lot that Kincaid doesn't know or remember and exposing the past could blow up the burgeoning romantic relationship both insist they don't have.
"So?" She looked up expectantly.
He sighed. "You got me with pancakes."
"Yay!" she said with a little bounce on her toes as she stepped back. "A sleepover."
He groaned. "People in their thirties can't have sleepovers. And you can't paint my toes or curl my hair."
The One for You is an emotional, heartbreaking, heartwarming, and sexy friends to lovers story. Roni Loren created another engaging pairing with a sassy heroine and swoonworthy hero. Ms. Loren continues to deliver in a captivating series of standalones about love, loss, taking chances, and friendship. Fans of Jaci Burton and K.A. Tucker will love The One for You.
Book Info:

Publication: December 31st 2019 | Sourcebooks Casablanca | The Ones Who Got Away #4
The highly-anticipated fourth book in Roni Loren's unforgettable The Ones Who Got Away series.
She got a second chance at life.
Will she take a second chance at love?
Kincaid Breslin wasn't supposed to survive that fateful night at Long Acre when so many died, including her boyfriend—but survive she did. She doesn't know why she got that chance, but now she takes life by the horns and doesn't let anybody stand in her way
Ashton Isaacs was her best friend when disaster struck all those years ago, but he chose to run as far away as he could. Now fate has brought him back to town, and Ash doesn't know how to cope with his feelings for Kincaid and his grief over their lost friendship. For Ash has been carrying secrets, and he knows that once Kincaid learns the truth, he'll lose any chance he might have had with the only woman he's ever loved.