A Christmas Temptation by Karen Booth is a sexy second chance romance for friends who shared one sexy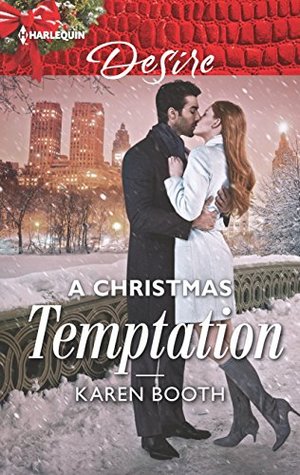 night together but never pursued something more, until fate throws them back together again.
When Sophie Eden and Jake Wheeler were in business school together their friendship seemed solid enough to chance a one night stand. But after that night Jake backed off, breaking Sophie's heart and they went their separate ways. Several years later Jake is working for a development company that wants the property in Manhattan where the Eden department store is located – a store that Sophie expects to inherit from her grandmother who recently passed away. The will won't be read for a few weeks but Sophie's sister Mindy has already said she's not interested in keeping the store and wants to sell, leaving Sophie trying to figure out a way to keep her grandmother's legacy afloat. Jake aims to convince Sophie that her best option is to sell and to make sure his company is first on her prospective list.
When Sophie heads off to her grandmother's home in Upstate New York to get ready for Christmas, Jake follows her and they get snowed in. Their mutual attraction leads to more sexy times, but no resolution as to what will happen to the business – or Sophie's heart now that Jake is back in the picture. When the will is read, will it make them choose between business or love? Or can they have the best of both worlds?
I enjoyed this Christmas themed romance. I could easily picture the Eden department store as it was getting decorated for the holidays. Sophie has a fondness for shoes and spends some time in the Eden shoe department, coordinating her outfits with her footwear. She dresses for success and Jake is quick to notice, and is reminded of what he could have had if he'd let Sophie in.
Jake had a troubled upbringing, abandoned by his mother and taken in reluctantly by a mean and abusive grandmother. His memories of Christmas are very negative, and he has a hard time with the holiday season. It's the exact opposite of Sophie who loves Christmas and all it represents. Part of the story revolves around Jake learning to open up his heart and believe that Sophie could have real feelings for him. Embracing her spirit of Christmas means taking a chance on love too.
Sophie's relationship with her sister Mindy is strained as they await the reading of their grandmother's will. Mindy has a successful business of her own and no time to devote to the department store so anticipating that they'll get equal shares means Sophie has to find a way to buy out her sister. But when the will is read, things take an unexpected turn! It tests Sophie and Jake's new relationship and Jake finds himself having to choose where his heart truly lies. In the end, they get their happy ever after. It's a nice Christmas romance (and I wish I could shop at Edens!).

Book Info:

Publication: Nov 1, 2018 | Harlequin | The Eden Empire #1
Somewhere behind the expensive gifts and grand gestures…
was the man who had once been her whole world.
Sophie Eden refuses to sell her family's legacy, especially not to Jake Wheeler. He and Sophie have history—a night of passion that first left her elated, then heartbroken. Now the New York heiress wants him to stay away. But when they're snowed in for Christmas, they surrender to temptation. Meanwhile, a secret waits to tear them apart…