A Bone to Pick (Widow's Island #2) by Melinda Leigh: Deputy Tessa Black is one of the three deputies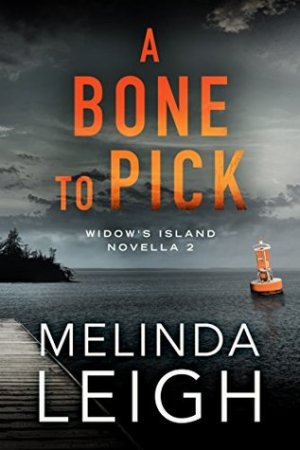 living and working on Widow's Island, a remote island in the Pacific Northwest. Of the other two deputies, one is off the island for the birth of his daughter's baby and the other deputy is handling a vehicle accident. That leaves Tessa to answer the call from Mrs. Davies about hearing screams coming from Bishop State Park in the middle of the night.
Hmm… Tessa knows she should have some backup before entering the park in the darkness. Maybe her best bet would be to contact Logan Wilde, the state park ranger who lives near the entrance to the park. They agree to meet in the parking lot at the entrance to the park. Both Tessa and Logan are shocked at what they find at the picnic area – the body of a man is impaled by a harpoon onto a sign. It turns out to be the body of a local artist who has been living on the island for about a year. Tessa and Logan decide to join forces to investigate this gruesome murder.
A Bone To Pick is the second novella in the Widow's Island series. This time it is fantastic suspense author Melinda Leigh's turn to thrill her readers with this fast-paced, action-filled murder mystery. Melinda Leigh is a super-talented suspense writer who always manages to keep a reader's attention to the very end of her stories. Her characters are very life-like and believable as they definitely are in this story. The storyline flows exceptionally well. If you like lots of action, great characters and a page-turner of a read you will love this story. Can't wait to find out what happens next on Widow's Island.

Book Info:

Publication: October 30th 2018 | Montlake Romance | Widow's Island #2
Deputy Tessa Black gave up her career as a detective with the Seattle PD and returned to the Pacific Northwest island she calls home to care for her ailing mother. Tessa thinks her mother's illness is the worst thing she'll face—until she responds to a routine call in the state park and discovers a local man harpooned to a sign.
As the murder investigation unfolds, it becomes clear that the victim harbored secrets. Together with her FBI agent best friend, Cate, and park ranger Logan Wilde, Tessa must connect the pieces before the murderer strikes again. But the closer she gets to the truth, the more she finds herself—and the ones she loves—in harm's way.
Pressure mounts as Tessa attempts to juggle the current case with her search for the truth behind her childhood friend Samantha's disappearance twenty years ago. Can Tessa find the murderer and uncover answers about Samantha without jeopardizing everything she holds dear?