A Cinderella to Secure his Heir by Michelle Smart is a passionate romance for a wealthy Italian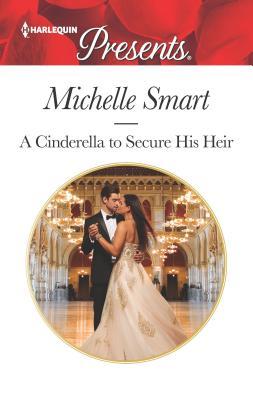 determined to claim his nephew back into the family fold, even if it means marriage to the child's guardian.
Alessio Palvetti isn't above a little subterfuge to get his nephew Dom into Palvetti hands. When his estranged brother and sister-in-law had passed away and granted guardianship to their friend Beth Hardingstone, he'd had her investigated and she clearly had the attributes needed to be part of the family. But he'd had to pretend to be someone else to lure her to Vienna under the guise of planning a society event through her company before telling her the truth.
Beth loves the little boy who's come into her care and still grieves the loss of her friends. Domenico had told such horror stories about his family that she had rebuffed any communication from his brother Alessio. She never suspected that the event she was planning was actually all a plot to get her onto Palvetti territory. She's frightened when she finds out the truth, worried that Alessio (whom she'd been feeling rather attracted to in his false identity) will take baby Dom away from her. Instead, Alessio offers her a deal. He'll let her continue to be Dom's guardian and in return she'll get marriage, a job with Palvetti's jewelry and perfumery business, money and societal prestige, and passionate sensual nights – but not love. Alessio doesn't do love. Beth accepts the offer, but can she convince Alessio that they could have so much more if he'd be willing to open his heart?
I know what to expect with a romance by Michelle Smart – always engaging, entertaining and enjoyable! Though Alessio gets Beth to Vienna under false pretenses, he's up front right away about not taking the baby away from her but rather finding a way to incorporate them both into his life. The main problem is that the Palvetti family have a history of being workaholics, always putting the job and the family's reputation before the people themselves. It's why Domenico, Alessio's brother had left the family fold as fast as he could, feeling unsupported and unloved by his workaholic parents and brother. Alessio wants Beth to see for herself what the Palvetti family is like and to make her own judgments, not to judge him by what his brother said. In doing so, Beth discovers that there's some truths to both sides of the story, and also helps Alessio see why his brother abandoned the family to seek his own fortunes.
Alessio and Beth's attraction is there from the start, and though Alessio's deception gives Beth pause, she isn't immune to his charms. They definitely have chemistry and share some sexy scenes together but not until they're married and even then, Alessio makes sure that Beth is ready to consummate their marriage. I liked that he didn't push her (she's a virgin on their wedding night) and that he leaves the choice of their union up to her. So even though he's semi-blackmailed her into marriage for the sake of the baby, he does come across as a likable man.
While Alessio finds a job for Beth in the company (as all spouses work for Palvettis) it soon becomes clear that she's being stifled in the office position under his strict and unfriendly cousin. When Beth comes up with an idea to promote their business through an exclusive party for select clients at one of their private worksites, Alessio finds himself siding with his wife over his family, several of whom object to the plans. He also starts to become aware that working long hours is depriving him of time with his wife and the boy he's grown to love as his own. As his feelings for Beth grow, he realizes just how wrong he was to blackmail her into marriage. He has to make some tough decisions, and lucky for him, Beth is understanding and determined to show him that their marriage has a real chance of succeeding if they can be honest with each other. There's a lovely happy ending and sweet epilogue. I'm looking forward to reading the next Cinderella themed romance!
Book Info:

Publication: Apr 16, 2019 | Harlequin Presents | Cinderella Seductions #1
The Italian billionaire's vow:
She'll be his wife!
Alessio Palvetti will do anything to bring his young nephew into the family business. To secure his heir, he'll use his incredible chemistry with the boy's legal guardian, Beth Hardingstone, and command her to marry him! For Alessio, the Palvetti empire always comes first, but all orphaned Beth has ever wanted is to matter to someone. Will their intensely passionate marriage be enough for this innocent Cinderella?
Fall in love with this Cinderella story…