A Colorado Claim by Joanne Rock: Lark Barclay has distanced herself from her two sisters and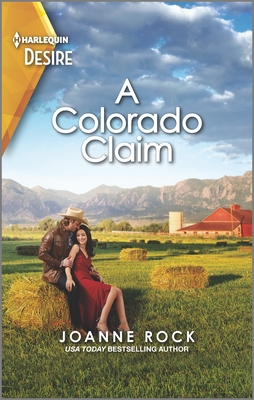 father. She has a successful practice as counselor and is able to help many of her patients. She is yanked out of her routine when she needs to go back to Catamount, Colorado. Her father is trying to claim he should have inherited his now late mother's ranch instead of his daughter. Crooked Elm was clearly left to the three sisters by their beloved grandmother in her will. Lark wants to help make things right, especially since she still feels guilty about not taking time to visit her elderly grandmother before her death. As if the situation weren't complicated enough already, Lark finds out quickly after she arrives that her ex-husband, Gibson Vaughan, is working building a ranch right next to Crooked Elm.
Gibson Vaughan was a superstar of a hockey for a good many years. When he put his hockey career and all things connected to it ahead of his marriage to Lark, she finally couldn't deal with everything and left him. Now Gibson is retired and working to develop his next step in life. He is thrilled when Lark shows up. Can he woo her back now that appears he has changed?
Lark had hoped to have a short stay in Catamount, but the trial over the inheritance has been delayed and her sister Jessamyn is having a quickly planned wedding to Ryder Wakefield in just a few weeks. With no choice but to stay Lark settles in, but is pulled back into Gibson's life with reporters who find out where he is and start grilling her also. Lark and Gibson have split up, but the chemistry ignites again. Will Lark be able to have a short fling with her ex and move on?
I could see why Lark was so leery about getting involved with Gibson again. She was hurt with always being in second place in his life. There is plenty of passion right below her surface and she tries to let her common sense keep it at bay. I could see how this would extra hard with a man as handsome and fit as Gibson.
The author lets us inside Gibson's mind to show how desperately Gibson still loves Lark and is working hard to win her back.
The two other sisters have a secondary role in this novel since the previous two have focused on them. The reader really needs to read all three in order to get the whole arc of the storyline. Mateo, the sisters' father, comes across as even more despicable in this book.
As with other Harlequin Desire novels, A Colorado Claim lives up to being a super spicy story. Joanne Rock has become one of my favorite romance authors. She will continue to be a must read for me.
Book Info:

Publication: July 26, 2022 | Harlequin Desire | Return To Catamount #3
A reluctant return puts former spouses on a collision course to reunion in the conclusion of USA TODAY bestselling author Joanne Rock's Return to Catamount series.
She's back to claim her land
but will her ex reclaim her heart instead?
Rancher Gibson Vaughn doesn't know why his wayward ex-wife is in town, but the sizzling chemistry between them still blazes. Lark Barclay needs to focus on fighting for her inheritance, not on a sexy former player. Yet Lark is helpless when it comes to Gibson's seductive kisses and soon falls into his bed. But will the heartbreaking secret she's carried since their divorce ruin their second chance at happiness?