For Butter or Worse by Erin La Rosa: Chef Nina Lyon has put in all the long hard hours into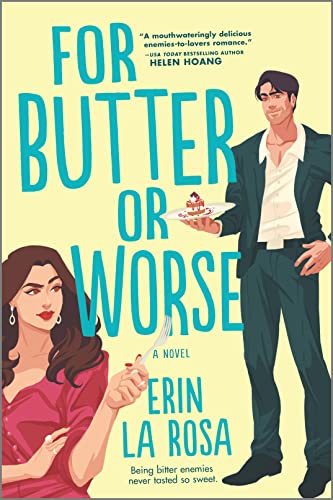 become the best chef that she can be and into making a name for herself as a women in a largely male dominated industry. All she needs is a bit of push to get her into the top tier of the foodie scene and with her new job as co-host to new hit reality T.V series The Next Cooking Camp! this could be just the thing that she needs to make her a household name… sounds like a dream come true right? Well it really would have been if only Nina did not have to share so-hosting responsibilities with the most annoying guy in all of Hollywood restaurateur Leo O'Donnell.
Its all really a bad case of foot in mouth syndrome for Leo, after all he really doesn't mean to come across as the biggest know it all jerk to Nina ever time that they are in the same room, but it would seem that once the camera start rolling Leo just can help but get nervous and end up acting like a total jerk. He really thought that he had a handle on his anxiety induced meanest that is until he takes a joke one set too far causing Nina to quit the show…while on live T.V. If this wasn't bad enough in his quest to make things right with Nina the two are caught in a some what compromising position by the ever present paparazzi… now with their fans going absolutely nuts about their secret romance Nina and Leo have little to no choice but to play along after all this could be just the thing that both of their careers need… all they need to do now is make sure they don't try and kill each other or worse fall in love with each other…
For Butter Or Worse was just the cutest enemies to lovers, office romance ever! I loved every moment of this silly cute romcom and getting to see these two strong willed character fall in love as they went from faking it for the camera to heart melting love. Firstly let me start of by saying I just loved the idea of a romance centred around a cooking show as a major foodie myself this was just dreamy and once we got going with the back and forth banter between Nina and Leo it was pretty hard to put this book down!
I loved both of these two character and really they both found a way into my heart. With our girl Nina well its pretty hard no to want to support her after all she really does put in a lot of hard work into making her culinary career a success. One of the things that I really liked about Nina was that she didn't back down from being a women in a male dominated industry even if she had to face an up hill battle. Her drive and determination made her such a relatable and love able character. Gosh it was hard not to like Leo especially once we got to know him and the anxiety and fears that have been eating at him. Granted he did not handle his anxiety in the best way possible. I really enjoyed getting to see these two banter and play of each other more so once they started their fake dating rouse.
One of the things that I liked about this book was the fact that it did not shy away for tackling two major topics, one of which being the sexism faced by women in the workplace and the second being mental health and the struggles that come with dealing with mental health on your own. I have to say that La Rosa has done a brilliant job with both of these topics and in turn helped make both of these two characters so relatable and ultimately loveable.
The chemistry and pull between these two characters was HOT!! And let me just tell you that there are a few very, very steamy page turners between Nina and Leo. As far as steam factor goes this book sits up there with the best of them! I really enjoyed getting to see these two characters not only opening up to each other but also lending that much needed support.
For Butter Or Worse is a definite must read this hilariously entertaining fake turned read, work place romance checks so many boxes essential in making a good romance great.
Book Info:

Publication: July 26, 2022 | HQN |
They go together like water and oil…
All chef Nina Lyon wants is to make a name for herself in the culinary world and inspire young women everywhere to do the same. For too long, she's been held back and underestimated by the male-dominated sphere of professional kitchens, and she's had enough. Now, as co-host of the competitive reality TV series The Next Cooking Champ!, she finally has a real shot at being top tier in the foodie scene.
Too bad her co-host happens to be Hollywood's smarmiest jerk.
Restaurateur Leo O'Donnell never means to get under Nina's skin. It just seems to happen, especially when the cameras are rolling. It's part of the anxiety and stress he has come to know all too well in this line of work. So nothing prepares him for the fallout after he takes one joke a smidge too far and Nina up and quits—on live TV.
To make matters worse, the two are caught in what looks like a compromising situation by the paparazzi…and fans of the show go absolutely nuts. Turns out, a "secret romance" between Nina and Leo may just be what their careers need most.
Now all they have to do is play along, without killing each other…and without catching feelings. Easy as artisanal shepherd's pie. Right?