A Consequence Made In Greece by Annie West could possibly be my most favorite stories of hers that I have read in recent times.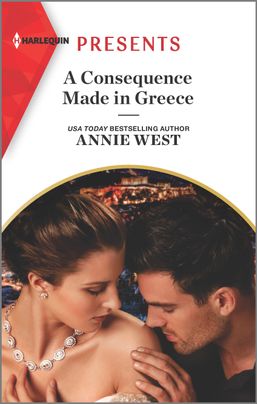 Descriptive words Annie uses are as beautiful as curvy calligraphy. The action is as exciting as any 5 star movie and the characters are brilliant in their roles. A very interesting beginning brings Strato and Cora together. Bowled over Strato is prepared to move heaven and earth to convince Cora she needs to come on a month-long sail with him. Finding just the right reason to convince her, it's not long before Strato and Cora (love the names) are in paradise. The trip is long enough for Cora to fall in love and unfortunately huge consequences. The ramifications of Strato's rejection are pretty intense and leads to an emotional conclusion.
I feel the reason for Strato's rejection was pretty intense, probably the most intense I've read for a Presents line but it did make sense when it was tied back to Strato. I really liked Cora though out the story and had a good head on her shoulders. She was likeable and relatable. I liked the way Strato was portrayed and how Cora was the one to change him. I really liked Cora's Dad.
A Consequence Made in Greece is another winner from the incredibly talented Annie West. From the exciting beginning and adventurous middle to the emotional showdown and conclusion I couldn't put this one down.
Book Info:

Publication: September 2021 | Harlequin Presents |
Alone together in paradise…
…things are getting heated!
A war of words with marine biologist Cora Georgiou on a deserted Greek island leaves Strato Doukas stunned and fascinated! The cynical billionaire surprises even himself by proposing they explore their electrifying attraction—on his private yacht…
Cora thinks she knows his rich, privileged type, but Strato's sensual no-strings offer is irresistible. And the man she uncovers beneath the playboy is captivating. A man whose past has made him vow never to marry or become a father. A man whose baby she's just discovered she's carrying…