In The Aristocrat by Penelope Ward, Felicity Dunleavy had planned on spending the summer before law school working and saving up some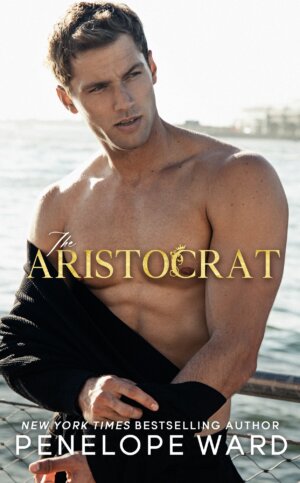 cash–not falling in love with a stunningly handsome British aristocrat. But that's exactly what happens when she sets eyes on Leo Covington across the bay from her foster mother's Narragansett, Rhode Island home. And boy did Felicity get an eyeful through her binoculars. Leo was naked in the outdoor shower at his rental home…and his cousin Sigmund "Sig" Benedictus just happened to be spying on Felicity with binoculars himself. After much awkwardness when they officially met for the first time, they all seemed to get along surprisingly well.
'I'd officially thrown caution to the wind and invited him into my life. And before I knew it, he'd be gone just as fast as he'd entered.'
Even though they both know better than to get attached, considering they're leaving town at the end of the summer, Felicity and Leo fall hard and fast for each other. Sig and other members of Leo's family try to remind him that he has his family's estate and properties to learn to take care of and should marry into the same "world" as he was raised. But Leo can't let go of his feelings for Felicity. And after going separate ways, it feels like they'll never get their chance to see what could have been. But an emotional letter five years later ends up being the catalyst to change Leo and Felicity's lives yet again. This time, though, might just be the time they'll finally stand up and fight for what they truly want.
"I'm not gonna promise I won't hurt you. I think we've already established that's a given. We're both going to end up hurt. But I promise to make every moment with you matter up until that time."
The Aristocrat was everything I've grown to love about a Penelope Ward novel: a sexy hero with a good heart (and a dirty mouth!), a strong and absolutely lovely heroine, lots of laughs and a few sniffles, and a complex plot that snagged my attention right away.
"A connection between two people is no less valuable if cut short by circumstances."
Felicity and Leo. Oh my… What a tangled up second chance romance they had. Their story takes place over the course of about a decade, including the sweet, heartfelt epilogue. From the songs Ward listed at the beginning of each chapter–setting the mood–to the fun bantering between Felicity, Leo, and Leo's cousin Sig, I had such fun reading this book. I will admit that there were some awkward moments that made me cringe. And our hero and heroine made some choices that had me (trying to) calmly set my kindle aside for a few minutes. But the story as a whole was a wonderful look into what people from seemingly opposite worlds can accomplish when they set their minds–and their hearts–to the task.
I think some readers will be fine with both Felicity and Leo up until they reunite five years after their memorable summer together. Things got even more complicated when they realized their feelings were as strong, if not stronger, than they were before. A fair amount had changed in their lives. So Leo and Felicity had to figure out if what they felt together was something worth pursuing, given the fallout that would happen if they did. I thought Ward put them through their paces–and rightly so, making their HEA hard won but worth it.
Penelope Ward's latest romance, The Aristocrat, will have readers swooning over a couple who couldn't seem to get their timing right, as they trekked across the world, from the East Coast to England and back again.
QOTD: Have you read and fallen in love with any second chance romances where the couple reunites several years later and give things another shot?
Book Info:

Publication: Published August 29th, 2021 | Penelope Ward Books, Inc. |
From New York Times bestselling author Penelope Ward, comes a new standalone novel.
The one that got away. Every girl has one, right?
Mine was a charming, British aristocrat who turned my world upside down one summer.
From the moment I first spotted Leo in the distance through my binoculars, I'd been captivated. I certainly never expected to find a man showering outside of the property across the bay in his birthday suit.
Then I noticed his housemate staring back at me with binoculars of his own—watching me watching Leo.
That made for an interesting conversation starter when I inevitably ran into them.
Turned out, the handsome Brits were only renting that house for the summer in my seaside town.
Leo and I formed an instant connection, even though we were technically opposites by all appearances. I taught him how to dig for clams, and he taught me that not all wealthy and powerful guys are pretentious.
Despite knowing he was totally wrong for me, I couldn't seem to stay away.
It was a wild and crazy few months. And before I knew it, we'd fallen in love.
We both had one wish: more time together.
But Leo had obligations back home. He lived a life I'd never fit into. And I was going to law school. So, we decided to end it and never look back.
A part of me always felt like I'd let my soulmate walk away.
I believed our story was over.
Until five years later when he sent me a letter that shook me to my core.
I'd thought my world was turned upside down that first summer?
Well, I knew nothing yet.