A Contract, a Wedding, a Wife? by Christy McKellen: Determined to keep her father's dream alive it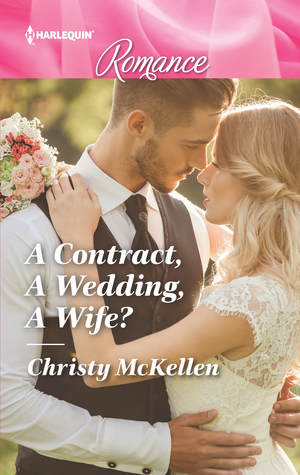 didn't seem to matter what she need to sacrifice to make it happen.
Solitaire Sanders was determined to keep her family together, whether it meant her father's dream of a board game coffee shop, her sister's dream of attending Oxford or keeping her mother's health level. The biggest hurdle was money, isn't it always? How was she going to afford everything?
Xavier McQueen didn't have a money issue, but he did have a wife issue. He needed one and he needed one quickly. How was he going to make that happen? After trying all of the "normal" venues he had almost given up when the perfect opportunity walked in the door.
With Xavier's money Solitaire could keep her family going. With Solitaire Xavier could accomplish what he needed. Things are never that simple though, not with free will and opportunities, could they keep to friends for a year? Or would a year prove to be just too much (and not enough)?
Ms. McKellen has given her readers a really fun novel. The introduction does take a bit to get through and doesn't make it seem worth it to stick through the book, but it is so worth it. The story is appropriately funny, the board game references making it even more so. The characters are both loveable and relatable taking the reader on a journey that no one will soon forget. Turns out that everyone can win playing games.
Book Info:

Publication: Expected publication: April 3rd 2018 | Harlequin Romance |
"What I need most right now is a wife."
But can their convenient marriage turn into forever? Solitaire Saunders will do anything to save her family's cafe—even marry enigmatic billionaire Xavier McQueen! As his contracted bride, she's there to secure Xavier's inheritance—not to enjoy his delicious kisses… It's only meant to be temporary, until the pretense of being married starts to feel passionately real!