In Don't Call Me Cupcake (The Holloway Girls #1) by Tara Sheets, not realizing that the gorgeous man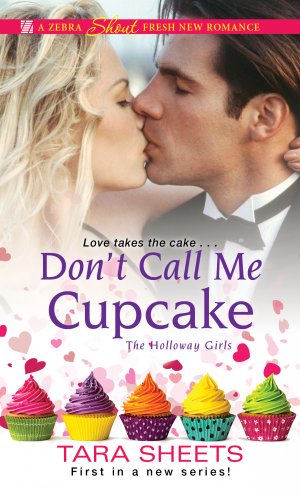 she sells three Sweet Success cupcakes to — cupcakes that she's baked the key to success in by way of magic — is her new rival, Emma Holloway is as nice as pie. But when she learns the truth and that the town council are forcing them to work together on the upcoming summer festival, Emma decides she's going to use her magic for personal reasons. Will she be able to create the perfect recipe to make Hunter leave town or will their intense chemistry prove to be too much for the pair to resist?
He seemed to catch himself, then glanced up. "Big day today. Lots of negotiations to handle." His smile was suddenly warm and genuine that Emma felt as if sunlight bloomed inside her chest. On impulse, she made a decision. "Success is what you need, then."
"Sure," he laughed. "That would be great."
She lifted a pair of silver tongs and pulled out a chocolate cupcake with salted caramel frosting. "This one is called 'Sweet Success.' It will grant you luck in what you want most."
What a fun and highly entertaining read Ms. Sheets has delivered in this first book of her Holloway Girls series where the main characters were incredible and the dialogue was a wonderful combination of intense moments and playful banter that had me loving these two together. The way this story started drew me in immediately, as the heroine is a warm, inviting and interesting character that had me reading quickly, determined to discover more about her. However, it was from the moment the hero and heroine meet where this story really comes alive, as these two together make this story an absolute page turner, especially once the heroine learns who he is. Will she find a way to run him out of town?
With the main characters, both were relatable, likeable and had me loving every interaction between them, especially since the heroine is so determined to see Hunter gone, but finds it difficult to resist him. Really, he's magnetic, confident and as delicious as her cupcakes sounds (if not more). I also liked that he didn't let the heroine's attitude get to him once she discovers who he is. Will he be able to win her over? Yet, what I liked most of all about the hero was how determined he was to help the heroine, even though it doesn't seem he's offering his help for the right reasons.
"Don't call me 'Cupcake.' Ever. In fact, don't speak to me again. I would never have sold you my 'Sweet Success' cupcakes if I had known who you really are."
Hunter opened his mouth to reply, then shut it. The little beauty was nuts, plain and simple. He tried again. "Look, I'm sorry, okay? How about if I just wish you success, too? Then we're even."
"No." She was already back away, folding the pink box in her hands. Were those tears in her eyes? "You don't get it. Guys like you never understand the important stuff."
While the heroine, she's resilient, courageous and I loved her determination to see the hero gone. Will she be able to go through with her plan? Will she be able to create the perfect recipe to get what she wants? I also liked how protective the townspeople were of the heroine because she's special and has already been through so much and doesn't deserve to lose anything more than she already has. Yet, what I liked most of all about the heroine was the way she stood up to her ex, which is proven by the moments she interacts with him that show she is no longer the doormat, dreamy-eyed girl she was when they were together.
"Emma." He reached for her hand and squeezed it. "You have bespelled me. And it has nothing to do with herbs and potions. Nothing to do with your recipe book or Juliette's garden plants. I don't care about any of that. What I feel…" He paused as though searching for the right words. "I've never felt it before and to be perfectly honest, I never believed it was possible for me. But what I feel for you…"
Overall, Ms. Sheets has delivered one of the best books I've read this year where the chemistry between this couple was heady and convincing; the romance a little on the sweet side since it doesn't go into a lot of detail in the moments where the hero and heroine become intimate; and the ending had me worried for the main characters because of what happens, but had me loving how things turn out for the pair because they're so good together. However, it was the epilogue that wrapped this story up brilliantly because of the surprise the hero had for the heroine. I would recommend Don't Call Me Cupcake by Tara Sheets, if you enjoy the enemy to lovers trope, small town romances or books by authors Kelly Moran, Peggy Jaegar, Donna Kauffman and Sharla Lovelace.
Book Info:

Publication: April 24th, 2018 | Kensington Publishing: Zebra Shout | The Holloway Girls #1
There's a very special kind of sweetness to life on Pine Cove Island . . .
Most families have a favorite recipe or two, handed down through generations. The Holloway women are a little different. Emma Holloway, like her grandmother before her, bakes wishes into her delicious cupcakes, granting the recipient comfort, sweet dreams, or any number of good things. It's a strange gift, but it brings only happiness. Until gorgeous, smooth-talking newcomer Hunter Kane strolls into her shop, Fairy Cakes–and Emma makes the mistake of selling him not one, but three Sweet Success cupcakes.
Hunter, it turns out, is opening a fancy new restaurant and bakery right on the waterfront–Emma's competition. To make matters worse, the town committee has decided to split the upcoming summer festival contract between the two, forcing Emma to work with her nemesis. But she can't afford to split her profits. The solution: create a recipe that will make Hunter leave town permanently.
The Holloway charms are powerful. But there are other kinds of magic in the world–like red-hot first kisses, secret glances, and the feeling that comes with falling truly, madly, inconveniently in love . . .