In Recipe for Disaster (Men of the Secret Service #1) by Tracy Solheim, when Secret Service Agent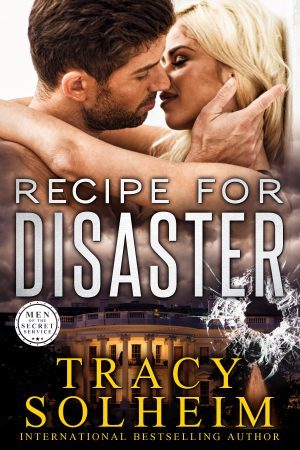 Griffin Keller realizes his case is a lot bigger than he imagined, the only clue he has to finding an international counterfeiter is a dish towel from the White House Kitchen. There's one person he suspects and that's pastry chef Marin Chevalier. However, when Griffin discovers that Marin isn't a suspect and instead is a target, will Griffin be able to keep her safe or will they lose their shot at happy ever after?
Diego groaned in exasperation. "You don't need to hire a guy. Not when there are plenty to choose from here. Starting with the hot dude in the kitchen."
"That's just the point," Marin whispered. "That guy's a hottie. And I'm…" she gestured to herself "…a nottie. Men like that aren't interested in women like me."
"What do you mean 'women like me'?" Diego asked.
"You know." She shot the sous chef an exasperated glare, angry she had to point out the obvious. "They prefer their women smaller. Like size zero smaller."
This is the first book I've read by Ms. Solheim and I've got to say that I really enjoyed this first book of her Men of the Secret Service series where the main characters lock heads at times because Griffin sees the heroine as a suspect to the crime he's investigating; the dialogue was riveting, as the frightening accidents and near misses to see the heroine silenced had me on the edge-of-my-seat and worried for the heroine's safety; and the fast-paced plot drew me in from the very beginning because of what the hero and his team discover and had me reading quickly, determined to discover whether the hero could solve the case.
With the dialogue, it was intense due to the investigation and everything the heroine goes through because someone is determined to make certain she's not a threat. How far is the bad guy willing to go to silence Marin? Why are they determined to silence Marin? Furthermore, the heroine was resilient, courageous and I liked how she handled everything she goes through when it comes to the bad guy after her. I also liked how feisty the heroine was, especially in the moment where she realizes Griffin will do anything for his job. How could she be a suspect when there's so little evidence that points to her? Yet, what I liked most of all about the heroine is the close friendships she shares with some of the secondary characters. They look out for Marin and aren't afraid to set her straight on rumors about the hero. However, it was her close friendship with the president's granddaughter, Arabelle, that had me smiling because the little girl loves Marin.
"You're an a**hole!"
From behind Marin, Leslie shot him a look that said he was that and a whole lot more. Perfect. Mission accomplished. "Regardless, I'm calling the shots on this case and you are going into protective custody."
"I'm not going anywhere with you," she protested.
"A safe house is a smart idea, Marin," Leslie put in. "It won't be long until this is over."
"How long?" Marin demanded. "How long do I have to stay in protective custody?"
While the hero, he's confident, very good at his job and I liked how determined he was to keep Marin safe, especially once he realizes how wrong he is about her. I also liked the tight friendship he shares with two other agents and that they aren't afraid to tease each other, especially when it comes to his growing relationship with Marin and the moment things go awry between them. Really, Griffin is lucky to have such loyal friends that would do anything to help him when it comes to the woman he's falling in love with.
Overall, Ms. Solheim has delivered a really good read in this book, which starts off the series wonderfully and which has me looking forward to more books of this series, especially if Adam and Ben (Griffin's friends) get stories of their own. Moreover, the chemistry between this couple was strong and had me hoping for the best for the pair since the heroine doesn't believe the hero could ever go for someone like her; and the ending had me worried for the main characters, but had me loving that Griffin was determined to make things right with the heroine. No way could he let her get away after everything they've been through and because of the sound advice he receives from the one person I never expected him to get such advice from. However, it was the epilogue that wrapped this story up nicely because the heroine has a big decision to make and she has a very important question to answer. I would recommend Recipe for Disaster by Tracy Solheim, if you enjoy romantic suspense, the sexy protector trope or books by authors Cynthia Eden, Pamela Clare, Shannon Stacey and Laura Griffin.

Book Info:

Publication: May 7th, 2018 | Tule Publishing | Men of the Secret Service #1
Secret Service Agent Griffin Keller always gets his man. And his woman. In pursuit of an international counterfeiter known only as "The Artist", Griffin stumbles across paintings stolen from the White House and swapped with forgeries. His only clue to the thief's identity–a dish towel from the White House kitchen.
White House pastry chef Marin Chevalier desperately needs a date to her cousin's society wedding. Unfortunately, her busy schedule leaves her little opportunity to meet eligible men. When a sexy Secret Service agent shows up in her kitchen—and just about everywhere else she goes—Marin believes she's finally met the perfect date. But when a series of frightening accidents and near misses plague her, Marin must rely on Griffin as more than just her "plus-one."
As dead bodies begin to pile up around Marin, Griffin is convinced she's the link to The Artist. Too bad the curvy chef has gotten under his skin like no other woman. When the clues finally fall into place and Griffin realizes Marin is not the suspect, but instead the target, he'll risk everything in his arsenal to keep her safe.