A Cottage Wedding by Leigh Duncan, the second book in her Heart's Landing series, is a delightful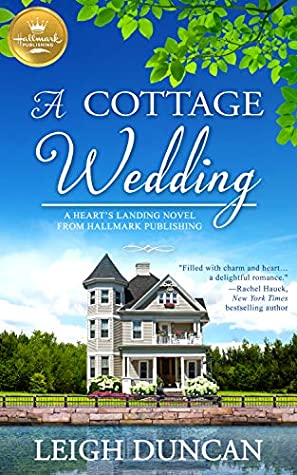 story. I really liked the whole atmosphere of the town.
Tara Stewart had just been handed the toughest assignment of her career so far at Weddings Today magazine. Her boss, Executive Editor, Regina Charm had issues with Heart's Landing the magazine's current Top Wedding Destination. Heart's Landing had been named America's Top Wedding Destination multiple times. It is now time to evaluate the top ten destinations once again. Tara's assignment was to go to Heart's Landing, not to honestly evaluate it, but to search for dirt to sabotage it. This didn't sit well with Tara but her job, let alone a promotion, depended on it.
Regina Charm's engagement ended shortly after flooding occurred at her and her fiance's wedding venue in Heart's Landing, Captain's Cottage. Regina bitterly chose to blame the town and not her fiance for her heartbreak. No, Tara did not like this assignment one bit. Upon her arrival she was treated like a princess by the townsfolk and she fell in love with the town. She also fell in love with the man who the townsfolk chose to show her around, Jason Heart, descendant of the town's founding couple. Jason also runs one of the town's premier wedding venues, Captain's Cottage. Considering her assignment one would not expect smooth sailing ahead though.
Jason Heart left a lucrative career in Boston and returned to Heart's Landing when his father became ill. Upon his dad's death Jason stayed to run Captain's Cottage with his cousin Evelyn's help. He loved his job and he loved Heart's Landing. What he didn't love was his girlfriend Clarissa who lived in Boston breaking up with him on the eve of of the arrival of Weddings Today's representative who was staying ten days in town to evaluate Heart's Landing for placement in the top ten wedding destinations and hopefully retaining the Number One designation. The town needed first place again. He is determined to do his best to help. He, along with everyone else in town, was surprised when Tara Stewart showed up instead of Weddings Today Executive Editor Regina Charm. Fresh from his recent breakup with Clarissa and with the town's first place on the line, he was not looking for another relationship. But there was something about Tara. They just clicked. Could he handle falling for Tara with everything else going on?
The names of the shops fit so well for a wedding destination. How cute is Forget Me Knot Florist and Dress for a Day? The characters are fun and I really liked how they supported each other. Tara and Jason are a special couple. They seem made for each other. I look forward to more stories in this series.
Book Info:

Publication: June 2nd 2020 | Hallmark Publishing | Heart's Landing #2
It's more than a charming small town― it's a premier wedding destination. But will one journalist ruin Heart's Landing forever?
Tara Stewart's boss at Weddings Today magazine sends her to Heart's Landing to debunk its romantic legends. This could devastate the many local businesses who cater to weddings, from Forget Me Knot Florist to Dress for a Day.
The locals convince Jason Heart, the handsome descendant of the town's founder, to show Tara around the town. But can he persuade her to believe in the romance?