In A Covert Affair by Katie Reus, Amelia has worked hard and overcome a lot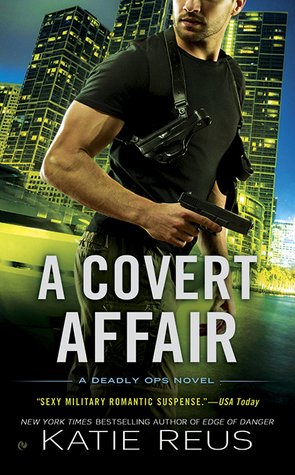 to get where she is today. Now she not only owns two restaurants, she also helps other women who need help. Nathan is the man who has never forgotten Amelia, nor does he know why all those years ago she sent him on his way, broke things off between them, and broke his heart. Former military, now NSA, Nathan is thrust back into Amelia's life when they unexpectedly meet on one of his undercover assignments. An assignment that suddenly Amelia is linked to. All of the feelings are still there they both discover, but so are the secrets… With a glimpse of a second chance together, first the lurking evil must be stopped. The deeper the investigation Nathan is part of goes, the deeper the danger to both of them. Will they get their chance?
A Covert Affair is a great addition to Katie Reus's Deadly Ops series. Some characters will overlap from previous books, but A Covert Affair is all Amelia and Nathan's story so it can easily be read as a stand alone.
For the most part I liked both Amelia and Nathan as the heroine and hero. Amelia is not quite honest with Nathan though, and it takes her a while to open up to him. Her reaction to his reaction to what she reveals made it a bit difficult for me to fully embrace Amelia, but at the same time I think it also makes her real. I liked who she was otherwise and what she is doing with her life. Nathan is a fantastic hero! I love him! He's never gotten over Amelia, he still hurts and wonders and no woman has ever taken the place she holds in his heart. It must have been difficult for him to focus on the job he's on when suddenly the woman who haunts him is in front of him and part of his life again…but he manages to pull it together well. I could feel the connection that still strongly existed between them, and the struggles, conflict and tension they experience personally and professionally are well written and woven together in A Covert Affair. I was very interested to see where Nathan and Amelia would end up when all was said and done.
The suspense part of A Covert Affair is very strong and unexpected! I was surprised numerous times, kept guessing, and a little fearful at times. Katie writes this so well and it felt so real. There is a lot of action and unknowns as the plot progresses, and through this Katie just drew me in deeper.
The differing POV's that A Covert Affair is written in really worked well, and I liked how this was done.
There are a lot of secondary characters who are part of this book. At times it was difficult to keep track of them all, but overall they were all significant characters who had to be there to make A Covert Affair work. And it did!
Exciting in more ways than one, well paced and smoothly written, I'd recommend A Covert Affair to any romantic suspense reader.
Book Info:

Publication: March 1st 2016 | Signet | Deadly Ops #5
The explosively passionate new Deadly Ops novel from Katie Reus, the New York Times bestselling author of Edge of Danger.
After being wounded in action, NSA agent Nathan Ortiz comes home to Miami, eager to return to duty. But he doesn't expect his newest mission to lead him straight to the one woman he loved, lost, and has never gotten over.
A beautiful, successful restaurateur, Amelia Rios enjoys giving back to her community, especially to struggling women. Then a woman she recently hired stops showing up for work, and, unfortunately, she isn't the first to go missing.
Soon Amelia finds herself thrust into a shadowy, dark world, working side by side with Nathan, the only man she's ever loved. They must confront old feelings as they battle a ruthless enemy preying on the poor and weak. The heat simmering between Nathan and Amelia could mean a second chance for them—but first they have to survive.