A Cowboy Christmas Miracle (Burnt Boot, Texas #4) by Carolyn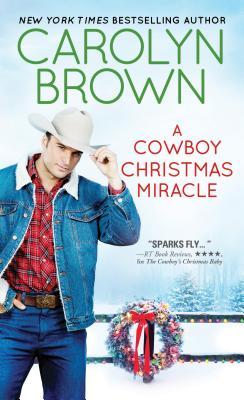 Brown is an amazing addition to the Burnt Boot series. When you pick up any Carolyn Brown book, you know you are in for a rip roaring good time. I mean who doesn't love a HOT cowboy or two, strong and sassy women, and a feuding family that keeps the reader laughing from start to finish. I have read the entire series, and while this book can be read stand alone, you will want to read the rest of the series because the Brennan and Gallagher feud is a laugh a minute. In this book, we get a little Romeo and Juliet in the form of Declan Brennan and Betsy Gallagher.
One night a week the Brennans and the Gallaghers decide to put aside the family feud to sit down and play a few games of poker. When Declan is goaded into taking a thousand dollar bet that he cannot seduce and bed the next woman that steps through the door, he will not be lose to a Gallagher so he's all in. What he did not count on is that the object of his affection, the one woman that is off limits will be the one woman that he will have to wooh, one head strong, feisty Betsy Gallagher.
Betsy Gallagher is in a pickle. She has to find a way to make the annual Christmas Play happen, despite her granny's demand that they do nothing, because of the feud, because the Brennan's destroyed the Christmas decorations, it should be up to them to replace. But when Betsy receives help from the last person that she ever thought would lend a helping hand, the one man that she has had a crush on since they were kids in Sunday School, Declan Brennan, she will need to keep reminding herself that he is forbidden fruit.
But when Declan and Betsy allow the feelings that they have for each other, feelings long denied to take over, it is explosive. And when Declan's secret is exposed, he will have to pull out all of the stops to prove to Betsy that his feelings for her are very real, and if they are really really lucky, these two might just get the biggest Christmas Miracle of all, their very own happily ever after.
What I really loved about Declan and Betsy is that they really did care about each other, I mean even though they were on the opposite sides of feuding families, they really did care. Declan cared enough to swallow his pride and pay off the bet, not wanting to hurt Betsy. Betsy showed her feelings for Declan when she told her cousin that NONE of her family were allowed to touch one hair on his head, if they did, they would face her wrath.
They both had memento boxes that the other did not know about. Betsy's held the little notes and trinkets that Declan left for her, Declan's held all of the things he collected that reminded him of her as they were growing up. When he started to return them one by one, each with a note of how old they were, what memory it held for him and what it meant to him, I will admit to crying like a baby.
I am truly sad to see this series end, but in true Carolyn Brown fashion, it ended on an extremely happy note and leaves the reader 100% satisfied.

Book Info:

Publication: Expected publication: September 6th 2016 | Sourcebooks Casablanca | Burnt Boot, Texas #4
It will take a miracle bigger than the state of Texas for these two feuding families to survive the holidays!
Opposites might attract…
The Brennans and the Gallaghers put aside their one-hundred-year feud every Tuesday for their weekly poker game. This week, the stakes are sky-high. Goaded to recklessness, Declan Brennan bets one thousand dollars that he can woo the next woman to walk into the saloon. A minute later, fiery-haired Betsy Gallagher pushes through the doors. If Declan can tame this wild Gallagher, he'll have earned every penny.
If they don't kill each other first…
Betsy can outshoot anybody in Burnt Boot and loves ranching more than anything-until she falls for Declan. He's fallen for her too. But when she discovers what sparked their courtship, Declan will need a Christmas miracle to save his hide-and his heart.