In A Cowboy Like You by Donna Grant, Skylar Long returns to her hometown in an attempt to escape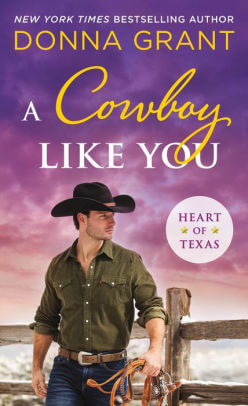 her abusive boyfriend, Matt. When she pulls into a rest stop parking lot and gets confronted by Matt, the last person she expects to come to her rescue was Sheriff Danny Oldman. He's shocked to find out about the situation Skylar has found herself in. When the truth about the extent Matt and his family will go to in order to protect their family name comes out, Danny is more determined than ever to make sure she's safe, even if it means risking his own life.
Trigger Warning: View Spoiler »First off, this book deals with the topic of domestic abuse, and there is a brief scene that actually depicts it. If this is a trigger for you, you may want to avoid this one. « Hide Spoiler
Readers will feel for both Danny and Skylar. Danny, while having many friends, is lonely. So lonely, in fact, that's he's eating his dinner by himself in the parking lot of a rest stop, which is when he runs into Skylar and Matt. Matt fooled Skylar and told her lies about his family, when she sees the evil behind the mask, she makes the attempt to leave. I found her to be courageous and strong.
I liked Skylar and Danny as a couple. Both had crushes on each other in high school, but neither acted on their feelings. Now that they had a second chance to be together, they were determined to make the most of it, even during the difficult situation they found themselves in.
I loved how all of Danny's friends banded around Skylar and offered her their protection and friendship. They easily welcome her as if she's one of their own, simply because they realized how much she meant to Danny.
This book is a great addition to the series, and it can be read as a standalone. The author has created a story where readers will root for Skylar, while detesting Matt and his family just as much. It will have readers journey through a variety of emotions, but in the end, there is a very satisfying conclusion. Fans of small-town romantic suspense are in for a treat with A Cowboy Like You.
Book Info:

Publication: November 26, 2019 | St. Martin's Paperbacks | Heart of Texas #4
Danny Oldman, the handsome Lone Star sheriff, is still single. He tells himself, and anyone who asks, that he is married to his job―and what matters most is keeping the people of his beloved Texas hometown safe. The truth? Danny still hasn't gotten over his high school crush. She moved away after graduation and took Danny's heart with her.
Skylar Long never thought she would have to flee Houston and return home―where it all began for her. But that's what happened after the man of her dreams turned out to be an actual nightmare. Now, Skylar is desperate to escape her obsessive boyfriend. Nothing shocks her more than seeing Danny again and realizing that their long-ago attraction is more powerful than ever. But can she and Danny find a way to fight against Skylar's wealthy, powerful ex who is dead set on tearing them apart?