A Cowboy Under the Mistletoe (The Wyoming Cowboy #3) by Jessica Clare : It's December in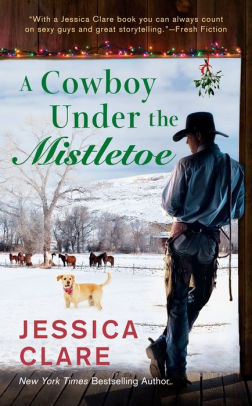 Painted Barrel, Wyoming, time for Christmas celebrations. The residents of small-town Painted Barrel know how to celebrate the holiday.
Who takes a job as a cowboy on a cattle ranch with no experience with ranching or cattle and doesn't even know how to ride a horse? Former Navy Master-at-Arms Jason Clements, that's who. And he really, really needs this job. Call him desperate. Jason suffers from PTSD after a tramatic experience in Afghanistan and add to that he lost his support dog so he's in a world of hurt. When he first arrives in Painted Barrel he meets a most generous soul, Sage Cooper. Jason doesn't know why but he opens up to Sage when they first meet and the end result is that Sage will give Jason a crash course in ranching. In return she asks Jason to escort her to a special event. Did I mention that Sage is twenty-nine and has never been kissed? Hasn't ever been out on a date? Well, there's all that. Will Sage's crash course save Jason's job? How will their date turn out? Guess you will just have to read the book to find out.
A Cowboy Under the Mistletoe by Jessica Clare is the third book in her Wyoming Cowboy series. Seems each book in this series gets better and better. The storyline is quite interesting. How Jason's PTSD affects him is heart-wrenching.
Ms. Clare has a truly fascinating character in Jason. She depicts Sage as a big-hearted, generous woman who cares deeply for her friends and the town. She is the perfect partner for Jason. The dialogue, especially the texts, between Sage and Jason is very entertaining. So much fun to read! The small town atmosphere and Christmas festivities are a delight to read. All in all this is a fun, very entertaining Christmas read.
Book Info:

Publication: October 15th 2019 | Berkley | The Wyoming Cowboy #3
'Tis the season for starting over for one military man turned cowboy in this new novel by the New York Times bestselling author of The Cowboy and His Baby.
Former Navy master-at-arms Jason Clements is down on his luck and calling in one last favor. His cousin has secured him a job opportunity as a cowboy working at Price Ranch in Wyoming. Too bad Jason has never even saddled a horse. If he can keep this job without his PTSD getting in the way, it'll be a Christmas miracle.
Local busybody Sage Cooper loves Painted Barrel something fierce, but it's time for her to move on. Since her father passed away, the family ranch feels too big for just her, and there's no chance of finding a husband in this small town. To the rest of the world, she's just another local fixture, known for her closet full of ugly Christmas sweaters and being perpetually single.
It isn't until Jason shows up in desperate need of a cowboy crash course that Sage discovers a tall, dark, and handsome reason to stick around. And with the holidays coming up, Sage is in need of a date for a special event—maybe they'll turn out to be each other's best Christmas present.