A Dangerous Solace by Lucy Ellis: Ava Lord's vacation is not turning out at all like she planned.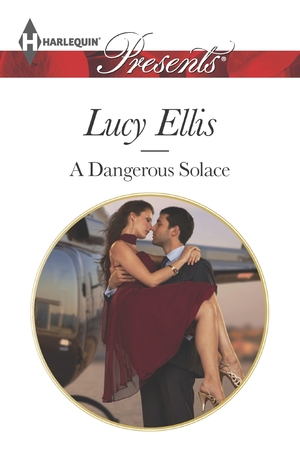 Finding herself jilted by her boyfriend in Rome, a city made for lovers, is bad enough; running into the man you shared one passionate night with seven years ago and never heard from again is even worse.
"She was beginning to suspect there were unplumbed depths of longing inside of her for a different life. A romantic life. But it was no used. Romance belonged in the movies, not in real life. Certainly not in her life."
Not that he recognizes her, much to her irritation. Ava knew he was a playboy Italian football star and had probably had more than his share of women, but she'd thought that what they shared was special enough for him to at least remember her. When he invites her to a party, she's determined to show up dressed to kill and ready to give him a piece of her mind.
"When he'd realized she was gone, leaving nothing–no note, no contact, no name, just shoes–instead of the relief which had been his usual reaction at that age, when a girl from the night before vanished back into the ether from which she came, possessive instincts he hadn't known he harboured had ramped up and he'd been out of that bed, pulling on his clothes, determined to track her down."
One look into Ava's sea green eyes is all it takes for Gianluca to remember her. She was the woman who had slipped away before he'd awoken, leaving behind nothing more than her shoes. A family tragedy had prevented him from following her before; now that he has her in his sights again, he isn't willing to let her go so easily. When the press print pictures of a bone melting kiss the two share, he whisks her off to the coast. It doesn't take long for Ava and Gianluca to rediscover that the passion that flared between them all those years ago still exists. But can they get over the mistakes of the past in order to claim a future together?
Ava Lord in A Dangerous Solace is one of those characters that really speaks to me: a socially awkward career woman with a hidden romantic streak who finds herself alone in one of the most romantic cities in the world. Even though she's been recently jilted, she isn't heartbroken. I admired her fiery spirit and pluck. Gianluca is the epitome of the Italian alpha male–sexy, successful, and singularly focused on getting exactly what he wants. No matter how many times Ava tries to run away from Gianluca, he refuses to let her get away. These two characters together–one always running away and another who is more than willing to give chase–were fascinating to watch. Ms. Ellis does a masterful job of weaving in the events of the past to give their present interactions more depth and feeling. It's clear that Ava doesn't want the romanticized memory of their perfect night to be ruined by their present relationship, not even if it means having the real thing. The miscommunication and missed opportunities in this story were colossal, and as a reader, I watched every one with a mix of frustration and amusement. I felt like I knew Ava and Gianluca, and I was invested in their happily ever after. The romance of the climactic moment when they finally admit their feelings for each other was a hand over the heart, aww-worthy moment that made the angst and black moments worth it.
While I liked the way Ms. Ellis used Ava's response to her brother Josh's wedding to give us a glimpse into her character when she first met Gianluca, I didn't like the way the state of his present day situation was left dangling. Were the things Gianluca dangled in front of her about her brother's situation true? Some of them obviously weren't, and it's not important to the love story, but I hate when things aren't at least explained if they can't be fixed in the space of the story. The level of agonizing and angst did get a little high in a few places, but for the most part, it was kept within acceptable levels.
Overall, I enjoyed A Dangerous Solace. I loved Ava and Gianluca together. I would recommend this book to anyone who loves Italian alpha males, socially awkward career women, lovers reunited and all the romance of a Hollywood movie set in Rome.
Book Info:

Published October 22nd 2013 by Harlequin Presents (Book 3189)
Stripped of her defenses… Italy's most desirable playboy, Gianluca Benedetti, might not initially recognize Ava Lord as the beautiful bridesmaid who stole his breath and shared his bed all those years ago, but one glimpse of the curves beneath her buttoned-up clothes and it all comes rushing back!
When a steamy kiss between them ignites a media firestorm, Gianluca whisks Ava off to the Amalfi Coast to minimize the PR scandal. Exploring the reignited passion between them, Ava realizes the danger of opening her heart. Because the closer Gianluca gets… the more cracks in her carefully constructed armor appear.