Dirty Little Secrets by Ella Sheridan is an erotic gem. It is well-written, flows at a nice pace and is chock-full of pure desire. It is so nice to read an erotic romance with a plot that is just as engaging the eroticism.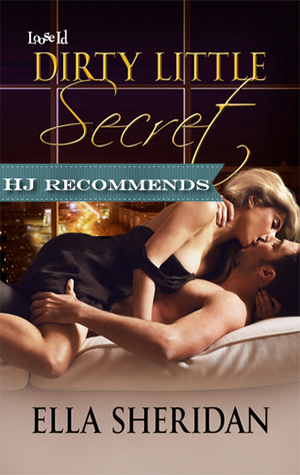 In order to escape the clutches of her small-minded family and town, recently divorced country girl Cailin Gray decides to begin a new life in the city of Atlanta. Once her transfer is approved, she packs up her stuff and never looks back.
It has been a really long time since Cailin experienced any kind of male companionship, so her flirting skills are extremely rusty. She desperately needs a little excitement and affection, so seeking out a warm body at Thrice, the newest nightclub in town, is a definite must. Little did she know that the man of her dreams would sweep her off her feet and take her against the wall.
Hot and sexy Alex Brannigan is the Senior Vice-President at Keane Industries. He married his best friend from high school, Sara Beth Keane, and together they make a dynamic professional team. Their marriage is one of convenience however, because Sara Beth's father is a ruthless dictator and treats all women abhorrently, including his wonderful daughter. He is just plain mean. Sara Beth should be the next CEO once her father retires, however, that will never happen because her father believes that all women should be in the kitchen, barefoot and pregnant. So because of her marriage, Sara Beth is able to work in a prominent position at her own company. Eventually, Sara Beth will be in charge, but until then, she and Alex will have to wait it out while dealing with her father's inhumanity.
Cailin and Alex meet, flirt and have amazing sex. However, instead of a one night stand, it is actually love at first sight. The situation only intensifies when Cailin shows up for her first day at work and meets her new boss, Alex Brannigan. Both are completely devastated and embarrassed about the situation. Overtime, Cailin learns the truth about Alex's marriage arrangement and accepts all that goes along with it. Keeping away from each in order to ensure that Keane Industries stays within the family proves to be very difficult.
The characters are so well-developed, it is easy to feel their love, anger, hurt and ruthlessness. I truly loved Alex, a real hero in every sense of the word. He gave up his future to help another person, which I found beyond reproach. This book is replete with twists and turns in all the right places, I loved how the story ended.
Book Info:


 HJ Recommends
Published October 15th 2013 by Loose Id | Series: Secrets to Hide #1
Cailin Gray transfers to the new Atlanta branch of her company to work for the senior vice president, Alex Brannigan. But before her job begins, she allows the anonymity of the big city to lure her into a night of dancing–and the arms of a mystery lover hotter than anything this country girl could imagine. When she wakes alone, his absence hurts more than she thought it would, but not nearly as much as walking into the office Monday morning and discovering her lover is her new, married boss.
Alex has one goal: help his best friend, Sara Beth, keep her inheritance. Their plan included a marriage of convenience–check–taking over the vice president's position–check–and keeping the platonic state of their relationship secret until their position of power is solidified. That last takes time, but the resulting solitude weighs heavily. Until Cailin. He told himself a single night would have to be enough, but fate had other plans. Now he must choose between keeping his dirty little secret and fulfilling his promise to Sara Beth, or finding the strength to free them all from the secrets that bind them.