In A Date with Dr. Moustakas (Hot Greek Docs #4) by Amy Ruttan, Dr. Christos 'Chris' Moustakas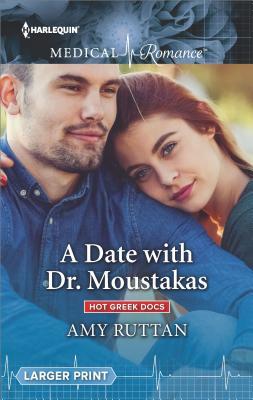 broke Naomi's heart years ago when he broke things off between them because they wanted different things for their lives. However, now Chris has found himself with a son and back in Mythelios working to help people after the earthquake that hit. He never imagined he'd run into Naomi again until he comes face-to-face with her at the clinic he owns with his three friends. Knowing he owes her so much and determined to make things right for hurting her years ago, he agrees to be one of the bachelors for the auction she's organizing. Yet, there's only one woman Chris wants and that's Naomi. Will he be able to convince Naomi that they deserve a second chance or will Naomi walk away for fear of getting hurt again?
"I hope the heat breaks before next week, when I have to go up on stage in a tuxedo and be bid on."
"Thank you for doing that. The other doctors in the clinic were all going to step up, but…"
"Yeah, they're all conveniently taken," he grumbled, but then he smiled. "I don't mind. Though I don't know what a single father can offer…"
"You have a lot to offer. You're a doctor, and being such a caring father is very attractive to most women."
Right from the beginning, this story had me hooked because of the prologue, as it sets the fast-pace of the story, and had me reading quickly determined to discover whether Chris would ever be able to make things right with Naomi as he hurt her badly in the past. However, it was from the moment the hero and heroine come face-to-face for the first time in this story since when he broke her heart where things get interesting, as Chris never thought he'd see the heroine again, and yet, here she is again in his life. Will the heroine be able to work alongside Chris without letting their past interfere in them working together?
As for the dialogue, it was intense due to the main characters back stories, as it's understandable why Chris is so against relationships. He has abandonment issues and has always felt it's better to walk away than be hurt, if the person he loved eventually leaves him. Moreover, the hero is hard-working, confident, will do anything for friends and I liked how determined he was to win over the heroine again, even if in the end they could only ever be friends. Will Chris work out what he wants for his life before he loses Naomi for good? Will Naomi give Chris a second chance, especially when he's already hurt her once? While the heroine, she's resilient, courageous, hard-working and I liked that she gave the hero a second chance, even though there were moments where I think she should have walked away for good because she went through so much in the past when she needed Chris the most.
"You'll go wherever I need to go? What about the clinic and the house?"
"They'll always be there, waiting for us, but this is your time to shine, Naomi. I just want to share in a bit of your spotlight."
Overall, Ms. Ruttan has ended this series with a really good read where emotions run high because of what happened in the past and whether Chris can win Naomi for good; the romance was delightful and had me loving that the heroine was willing to give the hero more chances than he deserved; and the ending had me crying happy tears because of the hero's words to the heroine in order to show Naomi that he wants forever with her. However, it was the epilogue that wrapped this story up wonderfully, as Naomi and Chris are finally getting the happy ever after they should have had years ago if Chris hadn't been so adamant about not wanting forever with the right woman. I would recommend A Date with Dr. Moustakas, if you enjoy second chance romances or books by authors Annie O'Neil, Amalie Berlin, Tina Beckett and Lucy Ryder.
Book Info:

Publication: June 18th, 2018 | Harlequin Medical | Hot Greek Docs #4
A date with her former flame…Brings the past flooding back!
In this Hot Greek Docs story, doctor Naomi thought her ex didn't want kids. So she's shocked to find Dr. Christos Moustakas at her new workplace – and he's now a single dad! Chris has dropped his playboy ways, but he still has a hold on Naomi's heart. And if she can now reveal their secret loss, it might finally give them another chance…