In All We Ever Wanted by Emily Giffin, Living in prestigious Belle Mead, Tennessee, with her son having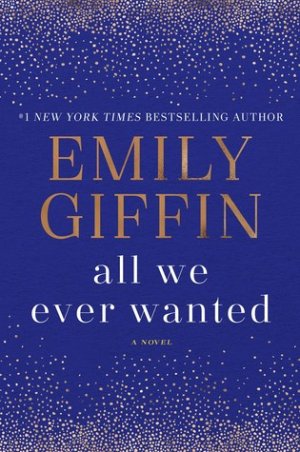 just been accepted to Princeton, Nina Browning should be feeling completely satisfied with her life. And she is happy that her son Finch is thriving and her husband Kirk has succeeded beyond their wildest dreams with his business ventures. But she's felt for a while that even with her charity work, her life of wealth and travel seems a bit…hollow. It's when Finch is accused of taking a racy photo of a girl at a party, sharing it with friends along with a racist remark, that Nina starts to wonder if she's been blind when it comes to those closest to her. How has she just now noticed how much Finch is taking after his father in his attitude and elitist views? And what can Nina do to not only teach him better, but to help the young woman in the midst of the controversy?
'The sweet kid I once knew could never have done this to a girl. To anyone. It just didn't make sense.'
Living paycheck to paycheck is not something that single father Tom Volpe wants his teenage daughter Lyla to ever have to deal with. Enrolling her in elite Windsor Academy is hopefully a step in the right direction to helping her find the path to success he never found. Not that Lyla would ever say anything bad to her dad about his woodworking business or his Uber gig on the side. But as cool as it is going to Windsor, sometimes it's hard to fit in with all the wealthy students. Things get even tougher when a suggestive photo of Lyla drunk at a party surfaces, stirring up gossip and her father's temper. On the warpath, Tom vows to make the person responsible pay. But getting to the bottom of who took the pic will prove to be nearly impossible when it seems everyone is lying or covering for someone else.
'What did money or material things have to do with any of this, anyway? Nothing. Character has absolutely nothing to do with finances.'
Moving, complex, and a realistic picture of the issues facing today's teens and their parents, All We Ever Wanted was the type of thought-provoking novel that will have readers wondering what they would do if they found themselves in the same tough predicament.
I always thoroughly enjoy Emily Giffin's writing style, but I have to admit I was so all over the place with my thoughts and emotions regarding this book. Not necessarily in a negative way. This was just such a tangled, twisted up situation that it kept me constantly changing where I stood on everything. Interestingly, this was told from the alternating POV of three different characters–teenager Lyla, her father Tom, and the accused teenage boy's mother, Nina. And I was completely drawn in with not only putting the pieces together of what truly happened and who was responsible, but also with how our three main characters interacted, changed and grew as individuals by the end.
I was a bit worried at first that this story would focus too much on wealth and comparing social and economic "classes". But I was happily surprised that the crux of the plot really came down to values, morality, and the choices each person made. Admittedly it was almost frustrating at times when I could see Lyla, Nina or Tom heading down a path that I knew wouldn't end well, but that was part of the journey. They did learn from their mistakes and their outbursts. And Emily Giffin did a fantastic job with their dialogue, conveying the rich emotions they were sorting through and making the conversations poignant and relevant. The characters themselves–all of them, not just the main three–were imperfect but relatable, which made each scene flow smoothly, in a genuine way.
A beautiful, heartwarming epilogue wrapped up this emotional story which proved that there is more than one side to every tale, and that doing the right thing might not be easy, but it is certainly never wrong.
Book Info:

Publication: Published June 26th 2018 | Ballantine Books |
In the riveting new novel from the #1 New York Times bestselling author of First Comes Love and Something Borrowed, three very different people must choose between their family and their values.
Nina Browning is living the good life after marrying into Nashville's elite. More recently, her husband made a fortune selling his tech business, and their adored son has been accepted to Princeton. Yet sometimes the middle-class small-town girl in Nina wonders if she's strayed from the person she once was.
Tom Volpe is a single dad working multiple jobs while struggling to raise his headstrong daughter, Lyla. His road has been lonely, long, and hard, but he finally starts to relax after Lyla earns a scholarship to Windsor Academy, Nashville's most prestigious private school.
Amid so much wealth and privilege, Lyla doesn't always fit in—and her overprotective father doesn't help—but in most ways, she's a typical teenage girl, happy and thriving.
Then, one photograph, snapped in a drunken moment at a party, changes everything. As the image spreads like wildfire, the Windsor community is instantly polarized, buzzing with controversy and assigning blame.
At the heart of the lies and scandal, Tom, Nina, and Lyla are forced together—all questioning their closest relationships, asking themselves who they really are, and searching for the courage to live a life of true meaning.