A Delicate Deception by Cat Sebastian is the third book in the Regency Imposters series. Amelia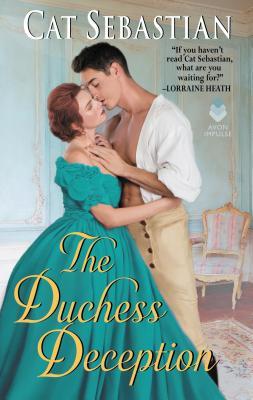 Allenby is the illegitimate daughter of a marquess and moved to Crossbrook Cottage to get away from people. After spending years in London pretending to be happy, she decided that she was done feeling boxed in by people. She became a recluse and stuck to her routine walks so she would not come into contact with people. While out on a walk one day she encountered Sebastian Goddard.
Sebastian owned Pelham Hall, but had been avoiding the place due to the fire that had killed his brother and sister in law. When the Duke of Hereford arrived he brought Sebastian's unknown niece with him. As Sebastian and Amelia continued with their walks, their feelings for each other grew. Their relationship could not progress in the normal way due to Amelia's panic when around people. Their resolution was for Sebastian to stay close to his job and then travel back to Crossbrook Cottage to be with Amelia when he had free time.
This is not a book I would normally read, but to be fair it had a great story line. Someone who panics when they are around people, becomes a recluse, and then they meet someone that they feel safe with and can love. It addresses a true issue and the descriptions the author uses to explain Amelia's feelings when she was around people was great. The book didn't seem to flow smoothly, it was a little "choppy" in places which made the story drag.
I liked that Amelia and Sebastian realized that they could have a relationship, even if it was not a "normal" relationship as society dictated. The ending of the book was vague, we never discovered if they got married, had children, or were happy later on in life. I would have enjoyed reading more of their future.
Book Info:

Publication: December 10th 2019 | Avon Impulse | Regency Imposters #3
When Amelia Allenby escaped a stifling London ballroom for the quiet solitude of the Derbyshire countryside, the very last thing she wanted was an extremely large, if—she grudgingly admits—passably attractive man disturbing her daily walks. Lecturing the surveyor about property rights doesn't work and, somehow, he has soon charmed his way into lemon cakes, long walks, and dangerously heady kisses.
The very last place Sydney wished to be was in the shadow of the ruins of Pelham Hall, the inherited property that stole everything from him. But as he awaits his old friend, the Duke of Hereford, he finds himself increasingly captivated by the maddeningly lovely and exceptionally odd Amelia. He quickly finds that keeping his ownership of Pelham Hall a secret is as impossible as keeping himself from falling in love with her.
But when the Duke of Hereford arrives, Sydney's ruse is revealed and what started out as a delicate deception has become a love too powerful to ignore. Will they let a lifetime of hurt come between them or can these two lost souls find love and peace in each other?