Unforgiven by Jay Crownover  is the second full novel in her Loveless, Texas series. The series began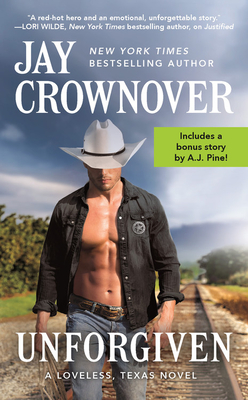 with a novella featuring Crew Lawton, Unbroken.
Kody Lawton is in the process of dealing with the murder of her father, Conrad Lawton. Conrad was the past sheriff in Loveless, Texas, a dirty cop and a waste-of-breath father to Kody and her two brothers Case and Crew. Case finally managed to be elected sheriff to replace his corrupt father so the Lawton siblings didn't have to deal with him much any longer. But that didn't mean they wished him dead. On the day of Conrad's funeral Kody noticed a mysterious redhead in attendance. Who is she and why is she at her father's funeral?
Hill Gamble is a Texas Ranger assigned to the Conrad Lawton murder case as a consultant. He isn't the agent in charge since the brass belive he is too close to the family. He grew up with the Lawtons and has loved Kody forever, or just about. Now he is determined to find her father's killer and keep Kody safe.
The first full novel, Justified which is Case's book ended with Hill telling the Lawton siblings their father had been murdered. The storyline in this book continues the murder investigation and the establishment of a relationship between Kody and Hill.
I loved the strength of of these two characters. They admit to past mistakes and work to overcome them. There's penty of action and danger as the murder investigation moves along. Oh! And there's plenty of heat to entertain readers too! Jay Crownover is a new-to-me author and I am so glad I found her. I am really looking forward to the next book in this series, Blacklisted.
Book Info:

Publication: February 25th 2020 | Forever | Loveless, Texas #2
From the New York Times bestselling author of the Marked Men series comes an irresistible and suspenseful romance between a tough Texas Ranger and his first love–a woman in danger who insists she doesn't need his protection.
Hill Gamble is a model lawman: cool and collected, with a confident swagger to boot. Too bad all that Texas charm hasn't gotten him anywhere in his personal life, especially since the only girl he ever loved has always been off-limits. But then Hill is assigned to investigate her father's mysterious death, and he's forced back to the town–and the woman–he left behind.
When Hill left Loveless, he broke Kody Lawton's already battered heart. And now that he's working on her father's case, avoiding him is impossible. She can handle Hill and her unwanted feelings–until he puts his life on the line to protect her. Suddenly, Kody realizes that Hill could be taken away from her…for good.
Includes the bonus novella Cowboy to the Rescue by A.J. Pine!