A Duke by Default by Alyssa Cole is the second romance in her Reluctant Royals series. It follows the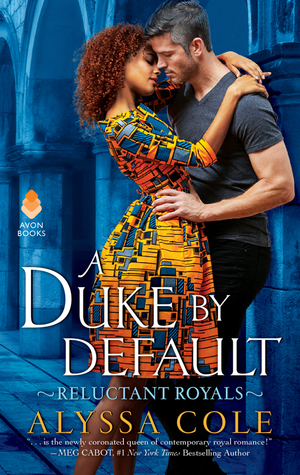 adventures of Portia Hobbs as she journeys to Scotland for a sword making apprenticeship, only to find herself falling for her grumpy boss. I don't know how anyone can resist a plot like that (and I certainly couldn't!) so it was with high expectations that I started this story and found it to be as interesting and delightful as I'd hoped!
Portia is best friends with Ledi (heroine of A Princess in Theory) despite their friendship going through some rough patches. Portia is fully willing to admit that's her fault – an excess of drinking, coupled with other bad decisions and a not very supportive family means she's got a reputation for instability. It's time to turn over a new leaf, and what better way than to swear off alcohol and sign up for a three month apprenticeship as a sword maker in Scotland. There she can start over, use her extensive knowledge of medieval and architectural history that would qualify her for any number of museum jobs if she could figure out how to stick them out, and perhaps give as much to the Bodotria armory as she'll get out of it. She just doesn't count on her grumpy, sexy, silver fox boss pushing all of her buttons.
Tavish McKenzie doesn't quite know what to make of his American apprentice. She's brash, she's bold, she's beautiful and …oh wait, she's also his employee. With her social media skills, her plan to update his website, get the armory more recognition and clients, combined with her research into the building bequeathed to him by his biological but absentee father leads to some surprising other discoveries – namely, that's he's the heir to a Dukedom! Suddenly his quiet existence takes on new challenges, ones for which he's happy to have Portia by his side to deal with the sudden fame and fortune. She comes from a wealthy society family and has the social skills to keep him from making a fool of himself. But even as they grow closer, becoming friends then lovers, there's a clock ticking on their relationship with her three month apprenticeship flying by. Will they admit their true feelings for each other before it's too late?
I was so enjoying the characters and the banter between Portia and Tavish (and the 'Defending The Castle' boot camp, and the sword making) that I forgot this was going to be a royal romance until it came up in the plot! Tavish's mother was a refugee from Chile who had a relationship with an Englishman. She'd chosen to have Tav on her own, then subsequently married a man from Jamaica. Tav has a half brother, Jamie who works with him at the armory, and whose wife Cheryl of Chinese descent runs a local restaurant. (It's called Doctor Hu's (ha!) which has delicious food that pops up from time to time in the story). Because of Tav's heritage, he is very conscious of refugee rights and current immigration headlines. The author does a great job of seamlessly weaving in these important contextual issues, and gives Tav a focus for where he'll be able to make a difference with his new social status.
For Portia, being a black American from a wealthy background means she's had different advantages in her life than some of her friends but makes her no less conscious of how people may treat her based on her skin colour. Tav sees only the smart, gorgeous woman in front of him who makes him lust after her, a feeling that is mutual. (Side note – the cover image captures them perfectly!) It's a slow burn romance, leading to some very steamy scenes once they decide that they are on board with a no-strings attached fling. Of course, the strings grow pretty quickly and they are soon forced to choose what kind of relationship they'll want moving forward. There are lots of laughs in this story, Tav's grumpy Scotch phrases and character making for delightful scenes since Portia isn't shy about calling him out. Dealing with the sudden fame of his new position, and the impact it has on his family and his business is stressful, and having Portia by his side to deal with it soon makes her indispensable. But Portia wants to know she's wanted for herself, not just her skills, and they go through some ups and downs before they find that happy ending.
I enjoyed seeing Portia's friend Ledi show up in a few scenes as well as other characters , including Ledi's cousin Nya who has become friends with Portia, and a rogue Prince of a European nation who will end up as a couple in the next story. If you want a topical contemporary romance with a royalty theme and characters who are lively, believable, and fun to read about, you'll want to pick up this series!

Book Info:

Publication: July 31, 2018 | Avon | Reluctant Royals #2
Award-winning author Alyssa Cole's Reluctant Royals series continues with a woman on a quest to be the heroine of her own story and the duke in shining armor she rescues along the way
New York City socialite and perpetual hot mess Portia Hobbs is tired of disappointing her family, friends, and—most importantly—herself. An apprenticeship with a struggling swordmaker in Scotland is a chance to use her expertise and discover what she's capable of. Turns out she excels at aggravating her gruff silver fox boss…when she's not having inappropriate fantasies about his sexy Scottish burr.
Tavish McKenzie doesn't need a rich, spoiled American telling him how to run his armory…even if she is infuriatingly good at it. Tav tries to rebuff his apprentice, and his attraction to her, but when Portia accidentally discovers that he's the secret son of a duke, rough-around-the-edges Tav becomes her newest makeover project.
Forging metal into weapons and armor is one thing, but when desire burns out of control and the media spotlight gets too hot to bear, can a commoner turned duke and his posh apprentice find lasting love?