In Handle with Care (Saddler Cove #1) by Nina Croft, Emily Towson wants the town bad boy Tanner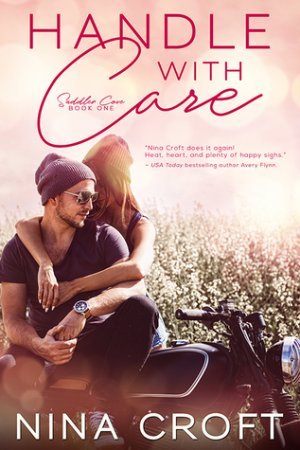 O'Connor. Yet, she never imagined confronting him about what he agrees to with her grandmother would end up with her getting down and dirty with him and then discovering soon after their time together that she's pregnant. However, knowing that being pregnant and unwed could cost her job, Tanner proposes they get married. Yet, his offer creates a whole new set of problems for her. Will Emily finally show the townspeople that she's not the good girl they all thought by fighting for her shot at happy ever after with Tanner or will she walk away from being with Tanner because she has too much to lose?
="You're not the only one who has fantasies."
"You fantasized about me?" She nodded. "Sex with me?" It sounded like she'd shocked him again.
"Wow. Little Emily Townson had sexy thoughts about me. Who would have thought it?"=
This was such a captivating and interesting story right from the beginning, as Emily's grandmother is determined to matchmake for her grand-daughter and has a very interesting way of doing it because she knows how Emily will react. However, it was from the moment the hero and heroine come face-to-face for the first time that I absolutely loved, as Emily is determined to chew Tanner out and make him understand that what he's promised her grandmother isn't happening. Will Tanner adhere to Emily's orders? Is Emily's overprotectiveness of her grandmother just a little too much?
As for the dialogue, it was compelling and intense due to the main characters back stories, especially that of the hero, as he's been through so much and it's understandable why he's so gruff and crotchety. Why bother to try and get along with the townspeople when all they'll ever see him for is the son of the town drunk and someone that's been in trouble with the law? Moreover, some readers may not warm to the hero, but I absolutely loved him. Really, everything about him – his gruffness, his cockiness, his back story, his close relationship with his siblings, his determination to do right by the heroine – makes him a wonderful character that I could not get enough of. I also liked how protective he was of Emily and that he would do anything to help her, which is proven by his need to play savior, even if it seems he's more of a hindrance than help.
"Mimi, I'm sorry if it will cause problems for us. And I know I'll likely lose my job, but I can't grovel to them. They're in the wrong, and I can't stand by and let them badmouth Tanner."
"I'd be annoyed if you did."
"I'm afraid it's not going to be the sensible option." In fact, she was going to give the Board of Education, and probably the whole population of Saddler Cove, a piece of her mind.
"All the better. Go do what you have to do, Emily Towson."
While the heroine, she was just as good as Tanner. She's resilient, courageous, fights for what she believes in and those she loves and I liked how determined she was to show the hero that not all of Saddler Cove have such a low opinion of him, especially once things come to light about how what happened in the past wasn't his fault. I also liked the close relationship she has with her grandmother, as they would do anything for each other, which is proven by her grandmother interfering with her love life while the heroine will do anything to protect her grandmother from decisions she sees as insane.
Overall, Ms. Croft has delivered a wonderful read to start off this series where the chemistry between this couple was heady and convincing; the dialogue had me smiling or laughing at times; the romance was hot, nicely-detailed and had me loving that Emily took a chance on Tanner and shows him that he's the right guy for her; and the ending had me loving the courage of the hero and heroine when it comes to fighting for their future together. What a wonderful way to show each other how they feel and at the same time tell the townspeople what they really think. Will everything work out for the best when it comes to the heroine's job? Will the heroine's grandmother find her own happiness? However, it was the epilogue that wrapped this story up nicely, as Tanner and Emily are so in love and have so much to look forward to. I would recommend Handle with Care by Nina Croft, if you enjoy the opposites attract trope, the surprise pregnancy trope or books by authors Samantha Young, Katee Robert, Naima Simone and Tawna Fenske.
Book Info:

Publication: July 30th, 2018 | Entangled Publishing | Saddler Cove #1
What if all you want is the one thing you can't have?
First grade teacher Emily Towson always does the right thing. The sensible thing. But in her dreams, she does bad, bad things with the town's baddest boy: Tanner O'Connor. But when he sells her grandmother a Harley, fantasy is about to meet a dose of reality.
And then he goes and calls her "sensible"…
Tanner can't believe sweet Emily is standing in his shop. Yelling and waving her hands and looking so god damn sexy he's having trouble focusing. He'd spent two hard years in prison, with only the thought of this "good girl" to keep him sane.
He really should send her away…
Before either one thinks though, they're naked and making memories on his tool bench with apparently the oldest condom in history. Now Tanner's managed to knock-up the town's "good girl" and she's going to lose her job over some stupid "morality clause" if he doesn't step up.
But can this bad boy teach his good girl they're perfect for each other in time?