In A Family After All (Castle Creek #3) by Kathy Altman, Ivy Millbrook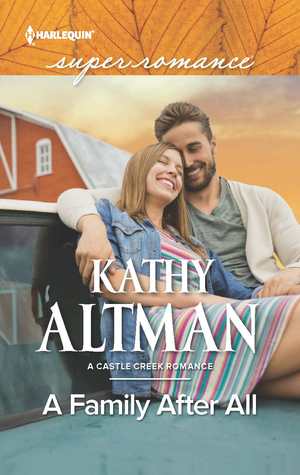 doesn't do relationships. So, when the man she wants gives her an ultimatum — of all or nothing — she knows things might never be the same between them. Until Ivy needs help to save her dairy farm, and the only person she seems comfortable asking is the one man that she should stay away from. Since she doesn't think she'll ever be able to give him what he wants – a chance at happy ever after with her.
"Parade of women, huh?" Gil rolled his eyes. "Don't you need a permit for an ego that size?"
Seth ignored him. "Bottom line is, I have to set an example for my kids."
"Good for you, man." Joe nodded solemnly. "They'll erect a statue in your honor."
"A special-order one." Noble leaned forward. "With blue balls."
Seth Walker wants all or nothing when it comes to a relationship. But the one woman he wants seems so far out of reach, he doesn't know if he'll ever get her to give him a chance. Yet, when Ivy finds herself in a spot of trouble and needs his help, he knows he needs to keep his distance. But the more time he spends with her, the more staying away from her seems impossible.
Although it took until chapter three to fully draw me into this story, I found it engaging, fast-paced and a real page turner right to the end from the start of that chapter. The plot follows the growing relationship of two couples – the main story being Ivy and Seth; while Marcus and Liz are the other couple. Both couples face some tough obstacles, but the way they work through them made for a really good read.
"Yet you were willing to piss me off so a little girl wouldn't feel unloved."
"Maybe I've learned something over the years."
"My point exactly."
"You need to butt out." She seethed.
"And you need to kick your own ass."
I loved both the main and secondary characters in this story. Marcus and Ivy have back stories that made it hard for them to get close to the opposite sex. I really felt for both, as it couldn't have been easy to let someone in. Especially for someone with Marcus's past, so I'm glad Liz didn't give up on him. The dialogue was definitely intense between Marcus and Liz, as he struggles to deal with his past and move on. It makes him hesitant to give Liz everything she wants, until he realizes she might just be exactly what he needs to make him whole.
While the dialogue between Seth and Ivy did provide some teasing banter, it also did get quite intense as they butt heads over decisions that they make that the other doesn't like. The heroine is very independent and stubborn, and doesn't know how to accept help or advice graciously. It's not easy for her to let someone into her life, especially a man that has kids. Because she's still punishing herself over a decision she made when she was a teenager.
As for Seth, he's a wonderful hero. He's an all-around good guy, and the relationship he has with his kids is delightful. His motives for helping Ivy save her dairy farm weren't exactly altruistic. If anything, it seemed he was determined to show her how good they could be together. I liked the fact that he challenged her independence, and made her see that she wasn't invincible. That he made her see that she needed to accept help, instead of doing everything on her own. Especially with the trouble one of her ex-employees was causing.
Overall, this was a really good story Ms. Altman has penned where the sexual tension increases every time Ivy and Seth are together — especially when they argue — until their intense chemistry spills over onto the pages in lightly-detailed sex scenes. I really enjoyed the ending, as I wasn't certain Seth and Ivy would achieve their happy ever after. So, the author making Ivy realize that she needed to forgive herself for her decision – a decision that was right for her at that moment in her life – was brilliant, if she was to have a future that included marriage and kids.
I would recommend A Family After All by Kathy Altman, if you like strong heroines that tend to frustrate the hero with their independent or tenacious nature.
Book Info:

Publication: November 1st, 2015 | Harlequin | Castle Creek #3
He wants forever. She wants right now.
Ivy Millbrook isn't interested in happily-ever-after. The only thing she wants from Seth Walker is no-strings-attached fun. Too bad Seth is holding out for the white picket fence. As a single father of two, he is the epitome of commitment and the complete opposite of Ivy. They're at a standstill.
The situation intensifies when Seth insists on helping Ivy save her dairy farm. With the kids in tow, working together isn't easy. But is the prospect of losing each other forever enough to push them toward a compromise?