A Healer for the Highlander by Teri Brisbin: Anna MacKenzie's mother is known as the 'Witch of Caig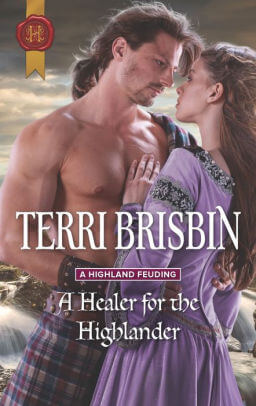 Falls". So, when Anna falls pregnant by Malcolm, the son of the Cameron Chief, her mother understands Malcolm can't wed Anna.
To save her daughter from further heartache, they head north. But, after her mother passes away, and some terrible news reaches her, Anna decides to return home with her son, Iain, so that he can claim his birthright.
With her healing knowledge, Anna is asked to help Colm, the son of Commander Davidh Cameron, who suffers from a breathing malady. As it turns out, Davidh was Malcolm's best friend, so she keeps Iain's true heritage a secret from him.
Davidh is a widower, still mourning the loss of his wife. He lives in fear of losing his son due to his fragile health. But, once Anna arrives, he gradually relaxes, as Colm continues to survive. He certainly isn't looking for love, but the more time he spends with Anna, the more he enjoys her company. But, Anna's presence is causing tongues to wag and her reputation as a witch's daughter may have come home to roost.
Thank goodness someone is still writing Highlander romances! I haven't noticed many of them around lately, and am starting to miss all those Scottish brogues and men in kilts.
This story relates a great deal of history and clan hierarchy, which, with Iain's arrival, could really upset the apple cart. The characters are, unfortunately, just a little bland, as is the dialogue. But, the plot is very interesting, and I loved the adventure and intrigue, clan politics, and of course the romance!
Overall, this is a very nice Scottish romance. It was lovely to escape to ancient times and lose myself in such a magnificent setting.
Book Info:

Publication: 11/1/2018 | Harlequin Historical | A Highland Feuding #5
She can save his sonBut can she resist the Highland warrior?In this A Highland Feuding story, famed healer Anna MacKenzie is moved by Davidh of Clan Cameron's request to help his ailing young son. She wants to help–and the commander has unknowingly provided the introduction to the clan she's been looking for. But Anna has a secret, one that could jeopardize the fast-growing, heated passion between them…