In My Favorite Half-Night Stand by Christina Lauren, Millie Morris may not have the most happening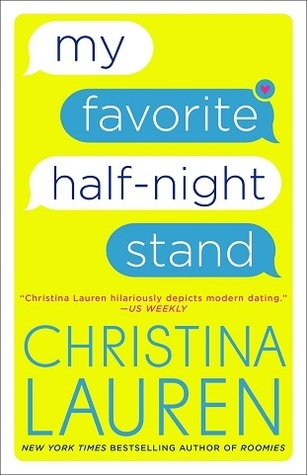 social life, but she has a great group of guy friends she hangs around with; all guys who also teach at UC Santa Barbara where she's a criminology professor. It doesn't bother Millie that she has to think hard to remember the last time she dated. Until she and the guys realize they should probably make an effort to get plus ones for a big event at school. Somehow Millie reluctantly agrees to online dating. And it's just as bad as she thought it would be. It's when she creates a separate secret account that things get interesting. Especially when she's matched up with one of her best guy friends.
"We're always pretty weird," I say, "…The sex just made us weirder."
"Our *half-night stand*?" he asks, and his smile is an adorable concoction of self-deprecating and sweet.
I shake my head. Must resist the cute nerd. "Stop. You can't pull off internet lingo."
Professor Reid Campbell has known from day one that his connection with Millie is special. It's never quite gone into the "more than friends" category, but he considers her one of the closest friends he's ever had. That's why when things go a bit further–and more phenomenally–than he ever expected one night, Reid isn't sure pursuing Millie is a good idea. He'd hate to break up their friendship. But as he explores online dating along with the rest of his group of friends, he can't get that night with Millie out of his head. The back and forth of their incredible chemistry versus their friendship gets to him, to the point where Reid knows he'll have to make a choice of what he really wants out of his relationship with Millie. Particularly after a secret she's been hiding comes to light.
'No matter what she or I have said before, we're in a weird limbo, and we need to get the fuck out of here as soon as possible, or risk ruining what is without question one of the best friendships of my life.'
My Favorite Half-Night Stand was another hilariously heartfelt novel by the always impressive writing duo of Christina Lauren. Just when I thought Josh & Hazel (from Josh & Hazel's Guide to Not Dating) were at the top of my favorite couples list, Millie & Reid melted my heart, impressing me with their adorable geekiness and super sexy chemistry.
'Is it possible to be a highly functioning adult with a successful career, awesome friends and a lovely family, and still be a Level Five Hot Mess? I may be living proof.'
As with all of Christina Lauren's work, there was a whole lot to love about this book. It was a friends to lovers trope which is always fun. And this had all of the great camaraderie between a group of friends–Millie, Reid, Alex, Ed and Chris–that I adored in CLo's Beautiful Bastard and Wild Seasons series. Including awesome conversations that just about had me crying, I was laughing so hard. (The group texts…oh my goodness!) That group dynamic was really interesting where they were all professors, kind of nerdy, had great senses of humor, plus it was four very different guys personality-wise and one emotionally-stilted woman. Proving once again that CLo knows how to create a cast of characters with the perfect amount of tension and cohesiveness.
Reid and Millie kind of surprised me in some ways. Typically it's the hero who is stunted emotionally and avoids a serious relationship, but in this case because of Millie's past, she was the holdout. And I really thought it fit the situation. It's not to say that she was cold. She was still caring as well as super funny. Millie just held her emotions and details about her life very, very close to her chest and it took much prodding by the guys to get any info out of her.
I loved Reid as well and thought it was cool that he was very adept at reading people. I got a kick out of him being equal parts amused and exasperated by Millie's avoidance of anything related to feelings. Their attraction was hot hot hot, as were their romantic moments together of course. And I have to say that even the duplicity with Millie creating another dating profile and what happened with Reid because of it didn't bother me so much. It felt like something that could potentially have happened–especially how it all snowballed out of control.
I hated to see My Favorite Half-Night Stand end and wanted to spend way more time with this raucous, absolutely terrific group of characters. I have no doubt that Christina Lauren has another hit on their hands with Millie & Reid's highly entertaining romance.

Book Info:

Publication: December 4th 2018 | Gallery Books |
From the New York Times bestselling author that "hilariously depicts modern dating" (Us Weekly) comes a sexy romantic comedy about online dating, and its many, many fails.
With a world-famous speaker at their university, Millie Morris and her four woefully single male colleagues make a pact that they'll all find dates. Unfortunately, Millie has more success helping them make matches online than she does navigating the onslaught of lewd pics in her own feed. But when she creates a fictional name for a new account, Millie finds herself vying for the online attention of a man she sees every day in the flesh.