In A Heart to Heal by Synithia Williams, Shayla Monroe has returned to her small hometown to after loosing her job and escaping a scandal as she has nowhere else to go.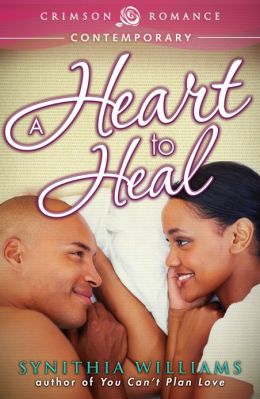 Now Shayla has to face everyone in town criticizing and judging her, not only on her past which is when she left home on the heels of a scandal, but now also for her most recent unfortunate events. She not only has to face the recriminations, scorned looks and ugly comments from the townspeople, but also from her own family on a daily basis. Those actions only reinforced her own beliefs of not being good enough and did not help her low opinion of herself.
Devin Jones, now a successful doctor, has not forgotten or forgiven what Shayla did to him in the past. At first he believes that he can treat her as if she was anyone else in town, but after he looks at her he realizes that everything that he believed for so long was nothing but lies. He has not forgotten her and he still has feelings for her, feelings that he had thought to be long dead. So now he will be willing to give her the benefit of the doubt and another chance, if only to see where things will go this time.
Now as Devin and Shayla embark on a new friendship they will have some challenges ahead. To begin with they will have the opinions and and opposition from the entire town and her own family, something that will make Shayla's low self-esteem create problems for her and Devin for she believes that she is not good enough for him.
But Devin will not give up easily, he loves Shayla flaws and all and he will fight for the woman that broke his heart and never gave it back. Now it's up to him to prove to her that he loves her flaws and all and that he will not judge her.
Having lost everyone she loved and having her family turn their backs on her, have made Shayla see things in different perspective than other would. Which made her make bad choices. But with the help and love of a wonderful, hot and smart man, even she can learn to make the right choices.
For a different type of romance that has a broken heroine and a hero that is every woman's ideal man ready to help heal her, don't miss A Heart to Heal by Synihia Williams.
Book Info
Publisher: Crimson Romance (May 6, 2013)
Shayla Monroe fled her hometown of Helena, South Carolina, after a shocking situation broke the heart of the only guy she'd ever loved. Years later, after losing her job in Atlanta with her name once again shrouded in scandal, she has nowhere to go but home.
Now a devastatingly handsome and well-respected man, Devin Jones became a successful doctor as a way to forget Shayla's betrayal. When she returns as infamously as she left, he plans to put aside old feelings and treat her as any other person in town. But after looking into her soft brown eyes, the feelings he thought long dead quickly rush to the surface.
Ignoring rumors, disapproval from family and friends, and promises to avoid each other, the two become friends . . . then lovers. Devin wants all or nothing, but Shayla, haunted by her past, is afraid their relationship will damage what's left of her reputation. Can two broken hearts survive the fight against past and present demons to heal and find love?
Sensuality Level: Sensual