In Sea Glass Island (Ocean Breeze #3) by Sherryl Woods, Actress Samantha Castle is hoping a change of scenery will help her get focused again on her acting career in New York after a bit of a dry spell. So she heads down to Sand Castle Bay, North Carolina, to take part in her sister Emily's wedding. Samantha is a little nervous to see her old high school crush, Ethan Cole, who is now a local doctor after a stint in the military overseas. When Emily sneaks into one of their conversations that Ethan will actually be the best man in the wedding, Samantha fears her sister is trying to meddle in her love life. Her suspicions are confirmed when her sister Gabi and grandmother Cora Jane keep finding reasons for her and Ethan to be in the same place, at the same time.
"Would anyone ever look at her as if she were the sun, moon and stars all rolled into one?"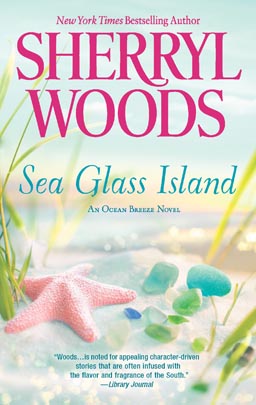 Amazingly, when Samantha spends time with Ethan, she has to admit her attraction to him is still just as strong as it was in school. She especially respects the outstanding man he's become. Ethan not only practices family medicine when he could have had a fast paced career in surgery, but he also created a foundation in which he helps kids with disabilities similar to his own gain more self-confidence. If only Ethan would have some confidence in his ability to love again, though. Samantha calls on her people observing skills she's honed over the years as an actress to try to get him to open up and move forward with his social life. It seems for every step forward something happens and they take a step back. When she decides to possibly stay in the area and look at career opportunities closer to her family, will Ethan freak out or will he be able to trust her enough to give it a try?
"Samantha Castle was a delectable handful. Even caught off guard with no makeup, tousled hair and wearing his shapeless football jersey, she'd been take-his-breath-away stunning."
Ethan Cole has just been warned by his friend Boone that the Castle sisters might be trying to set him up with their sister, and maid of honor, Samantha. Unfortunately, Ethan is jaded when it comes to love after his ex-fiance broke up with him a few years ago. He came home a war hero from Afghanistan and Iraq with a serious injury that took the bottom half of his leg. She wasn't able to deal with him being "different" than before and that has since clouded his judgement regarding romance. Samantha turns out to be quite different than he expected: she's not the flighty self-obsessed actress he pictured. Instead she's compassionate, understanding, and full of fun and charm. And particularly cute dressed only in his old high school football jersey when they meet for the first time… They have an obvious attraction to each other which Ethan tries his best to ignore, but "the Castle meddlers" (as he calls them) keep trying to throw them together. Samantha seems willing to take the leap and see where their relationship goes and also isn't afraid to call Ethan out on his avoidance of dating. He enjoys her company and wants desperately to let himself give in, but he knows Samantha deserves someone who will be there for her without any reservations. Can he get over his past in time to convince both himself and Samantha that he can be the man she needs?
This is an incredibly sweet romance. Sherryl Woods has written a story that is definitely a slow burn, in that Samantha and Ethan obviously are meant for each other but they take a long time to come to that realization. I won't spoil the rest of the story of course, but let's just say the scene with their first kiss was breathtaking and sooooo romantic! This is the type of couple that you can't help but hope get their HEA. The secondary characters in this story are still easy to follow along with, even if you haven't read any of Sherryl's previous books in this series. I definitely recommend this for all of you small town romance lovers out there. Just keep a box of kleenex handy.
Book Info
Release date: May 28, 2013 | Series: Ocean Breeze
Under summer skies, 
New York Times
 bestselling author Sherryl Woods evokes family, friendship and heartfelt emotion
With her two younger sisters heading for the altar, will Samantha Castle exchange old dreams for new ones? Lately she'd rather be on the North Carolina coast with family than in New York with agents and actors. Though she vows not to let her teenage crush on Ethan Cole influence her decision, it's hard to ignore her feelings for the local war hero.
Ethan lost more than his leg in Afghanistan. He lost his belief in love. Even being surrounded by couples intent on capturing happily-ever-after won't open this jaded doctor's heart. It's going to take a sexy, determined woman—one who won't take no for an answer.