A Hint of Scandal is the debut novel of Tara Pammi for Harlequin presents and is the first book in the duet The Sensational Stanton Sisters Series.
Scandal follows Olivia Santon everywhere she goes and she has made many scandal inducing bad choices in her life but she is finally getting herself back together when her sister, Kimberly Stanton does a runner at her own wedding and she has to save the day by taking her sister's place at the wedding as the bride. Nobody knows about the bride exchange apart from the two sisters and Olivia manages to fool everyone till the wedding gets over. But soon her actions give her away and the groom realizes he has just married the wrong Stanton sister.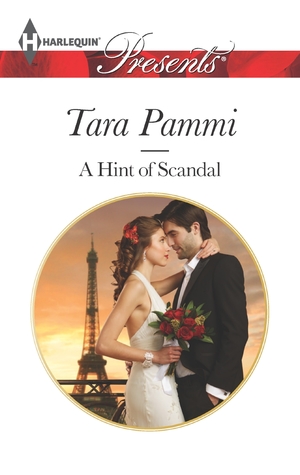 Alexander King is furious at the deception and decides to make Olivia pay for her actions. He can't afford a scandal involving the bride exchange so he decides to play along with Olivia untill Kim returns. Actions have Consequences and he will make sure Olivia's actions have theirs by forcing her to play the game she started by his rules..!!
A Hint of Scandal was well written and had the conventional harlequin presents storyline.The story though very predictable was sexy and glamorous with every element which you expect from a present read. The hero, Alexander had a sad childhood, which impacted his personality and was the root cause of his ruthless determination for perfection.He was a good package overall and I only wish he could have treated Olivia better in some events.
"And the chances of you lending me your security guys so that I can reach the airport unscathed…?"
"Zero."
Olivia was a very complex and controversial character.She had a very scandalous past and her bad choices affected her very badly. Many readers will have trouble connecting with her and may not like the excessive baggage she carried in the forms of so many scandals. Though I did find the choices she made in the past immature, I loved her and maybe she made many questionable mistakes but that just made her more human and real to me. Whatever mistakes she made in the past according to me did not matter much because she learned from them and was trying to move on. Her past was very overdone and I would have prefered if it was a little subdued.
"Olivia stood rooted to the spot, her breath trapped somewhere in the base of her throat. The lowest. Yes, she had been there, and she had ended up there because she had fallen in love. But it was never going to be enough. She couldn't make someone love her."
The chemistry between the characters was good and I enjoyed their conversations.They both were very vocal about their mutual attraction but I liked the fact that they waited before finally taking the plunge.Their romance had all the necessary heat and it was enjoyable to read their interludes.
Pink seeped up her neck, drawing his attention to the pulse at her neck, frantic and pulsing. She moved off him, took a few steps back, her breathing harsh and shallow. "You provoke the worst in me."
He frowned, his libido still not under control. "Believe me, it's completely mutual."
Overall, A Hint of Scandal by debutante Tara Pammi is a well written enjoyable read all together and though the characters (especially Olivia) might be a little too unconventional,the writing makes the story a worthwhile and good read.
Book Info:

Published September 17th 2013 by Harlequin | Series: The Sensational Stanton Sisters #1
Notorious socialite in over her head?
Olivia Stanton's name has been synonymous with scandal-every bad choice scrutinized in the headlines–but she's finally getting herself together. That is, until her twin sister disappears right before her wedding and Olivia's needed to stand in–as the bride!
Alexander King's ruthless determination for perfection is world renowned and he'll make Olivia pay for her latest stunt–by enforcing their marriage vows! He expects her to be the model wife in public. And in private? With her feisty attitude and his strong will, it won't be long before the tension between them reaches boiling point!