In Hot Mess by Lynn Raye Harris Georgie is no longer the teenager who threw herself at Sam. She is now an English professor working for the military, she's been married and divorced, and lives far enough away from her family so that they can't interfere with her life on a daily basis.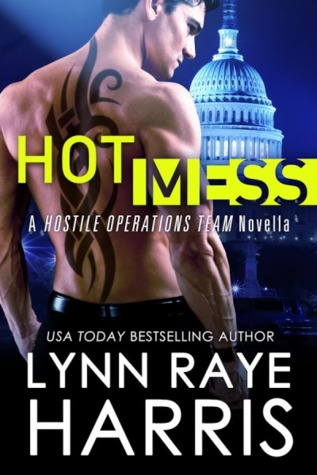 Sam has been Georgie's brother's best friend forever. He knew Georgie had a crush on him when she was younger, something that no matter what he felt he wasn't going to act on since she was his best friend's little sister. Sam knew the thing for him would be to move away and join the military – that was his way to get where he wanted to be in life. He couldn't just take what Georgie was offering then leave, so although things got hot and heavy for one night when she was 18, he put a stop to it before it went too far. Now he and Georgie have not seen each other in years.
In present time, Sam is back in the States, now part of a very elite military group (HOT). When Georgie's brother asks him to check in on her, Sam's timing is impecable. Georgie is worried about one of her missing adult students, she's been pushed in front of a train, and her house has been broken into. Sam has the connections to help her, but before they know it, all of the events are tied to the missing student, Georgie is in danger, and Sam's team is now involved in the case. If anyone can keep Georgie safe it is Sam and his team… When Sam whisks Georgie away to a secure location, Georgie is determined to use the opportunity to not just stay safe, but to convince Sam she is much more than her brother's sister! As Sam works to keep Georgie safe, he can also no longer deny the chemistry between them. But is it a lasting chemistry? Can Sam let go of his past enough to accept that he might be just what Georgie wants? That she is willing to give things with them a try if only he will?
I loved Hot Mess! Both Georgie and Sam have matured a lot since they last saw each other. They are both strong people. I love that as independent as Georgie is, she knows when things have gone too far and she knows when to ask for help…and then she listens! Sam has always felt that he couldn't touch his best friend's sister, but he's also always felt that he's not good enough for Georgie. Georgie sets out to make him see the error in his ways, and things really start to steam up between them! It makes a huge difference in Hot Mess that Sam and Georgie already know each other, even if it has been years since they've seen each other. I think that eliminates the need for a big build up of the relationship. Really, they were part way there already!
Hot Mess by Lynn Raye Harris is the perfect length for Georgie and Sam's story! Hot Mess flowed smoothly, kept me captivated, and very interested to see how things would turn out! I loved that Lynn took us right into Sam and Georgie's story, everything was so direct, and it was not some long, drawn out book based on a few days in the lifes of the characters. Lynn does a great job of taking us through a reunion, suspense, hot romance and then takes us to where I was very happy with the conclusion and the way it was done in Hot Mess.
I'd highly recommend Hot Mess to any romance reader looking for a fast paced romantic suspense that will pull you in quickly and keep you there! Although it is a novella and book 1.5 of Lynn's Hostile Operations Team series, it can definitely be read as a stand alone. (Although I also highly recommend the first book in this series Hot Pursuit)
Book Info:

Published September 30th 2013 by Lynn Raye Harris | book 1.5 Hostile Operations Team series
English professor Dr. Georgeanne Hayes has a problem. Her star pupil, an Army sergeant who works in a Top Secret government program, is missing—and someone tried to push her in front of a train last night.
Sam "Knight Rider" McKnight is used to looking out for Georgie. When they were kids, she was just his best friend's baby sister. But Georgie's not a baby anymore and Sam is getting some very male—and very dirty—thoughts about the girl he knows he can never have.
When someone threatens Georgie's life again, Sam will do anything necessary to keep her safe. Even if it means spending the next few days locked up in a remote house on Maryland's Eastern Shore with her.
Sam might be used to denying himself what he wants, but he's about to find out that being cooped up with Georgie will push him to the limit. And maybe beyond.