In A Hummingbird Christmas (Glacier Creek #1) by Karen Foley, Joy Holliday never imagined she'd find happiness again, but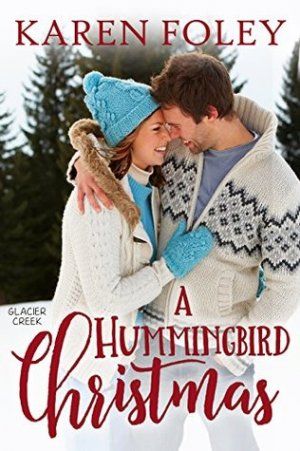 visiting her in-laws during the Christmas holiday with her daughter for the first time in Montana brings her face-to-face with her late husband's best friend, Cole Tanner. Spending time with Cole is wonderful and has her thinking that maybe it's finally time to move on with her life, even though the death of her husband devastated her so much, she never thought she'd be able to put the pieces of her shattered heart back together. Yet, as she and Cole grow closer, will Joy be able to prove to Cole that miracles do happen, so they have a shot at happy ever after?
"I'm sorry," he began, spreading his hands out. "I wasn't thinking, and I put you in a tough spot."
Joy waved away his protests. "No, it actually works out for the best. Piper only asked for three things for Christmas, and a puppy was number two on her list. The first was a white Christmas, and think that's covered."
"What was the third thing she asked for?"
Joy gave him a wide smile, but there was an unmistakable sheen of moisture in her eyes. "A new daddy."
This is the first book I've read by Ms. Foley, and it's a wonderful start to this series for her, because of the main characters back stories and how things between this couple are complicated with Cole being Joy's late husband's best friend and Cole wanting to hate Joy for taking his best friend away from everyone and everything he loved years ago. Will he hold a grudge against Joy or is their chemistry too hard to resist? However, it was the way this story started that had me absolutely captivated, as Joy isn't used to Montana weather and it was palpable that something was going to go awry for her. Yet, it was from the moment the hero and heroine come face-to-face for the first time that had me looking forward to reading what direction Ms. Foley would take this couple, as not only is Joy wary about getting involved with another man for fear of feeling like it's a betrayal to her late husband, but because Cole's reaction to Joy wasn't what he expected it to be when he finally got the chance to meet her.
As for the dialogue, it was entertaining and I loved the interactions between the main and secondary characters, especially the interactions between Cole and Joy's daughter, as he's never been a fan of Christmas because of things that happened in his past and Joy and her daughter make him begin to see the magic of the holiday again. The dialogue was also intense due to the main characters back stories and what Cole learns about someone he loved that rocks his world, because losing that special someone wasn't for nothing. It brought him to the best family he's ever known.
Moreover, the heroine is a great mother that would do anything for daughter and I liked what she did to grant her daughter the wishes she made for Christmas, even though the third seemed impossible because her late husband was a great man, which didn't make it easy to be able to move on after his loss. I also liked how strong and brave the heroine was by giving Cole a chance. Yet, what I liked most of all about Joy and her daughter is how they helped bring happiness back in Cole's life with their Christmas spirit. While the hero, he's had a lot of hard times in his life, and not knowing what happened to someone he cared about hasn't been easy for him. Yet, being with Joy and her daughter is good for him, especially since they bring the happiness back to his life that he's been missing. I also liked how he's handles the devastating news he receives; news that also brings him comfort because it showed his father's abandonment was for the right reasons.
"This one will never shatter, never hurt you," he said, sliding his arms around her. "I promise."
"How did you—"
"Sweetheart, if the hummingbirds you see are trying to send us a message, I'm not about to ignore them." He cupped her face in his big hands, his eyes searching hers. "I haven't celebrated Christmas in a long time, but you and Piper are my Christmas miracle. You've made me believe in magic again."
Overall, Ms. Foley has penned a fascinating and enchanting read in this book about Christmas miracles; what the sighting of a hummingbird means for those that have lost a loved one; how love can heal the wounds of the past; and where the chemistry between this couple was intense and just kept getting stronger the more time they spent together. The way this story ended had me a tad emotional due to the news one of the main characters receives, but I loved how things worked out for the hero and heroine, because there's no way Cole can let Joy go. Not when she and her daughter are miracles that have brought happiness back into his life, especially for Christmas. I would recommend A Hummingbird Christmas by Karen Foley, if you enjoy holiday-themed stories or books by authors Eve Gaddy, Sinclair Jayne, Joanne Rock and Joan Kilby.

Book Info:

Publication: October 17th, 2017 | Tule Publishing | Glacier Creek #1
Cole Tanner doesn't do Christmas.
Abandoned as a child on Christmas Eve, he has no use for the holiday season. When his best friend's widow arrives in Glacier Creek, Montana, determined to give her small daughter the fairy-tale Christmas she's dreaming of, Cole is prepared to dislike her. He isn't prepared for Joy and her daughter to insinuate their way into his life—and his heart. But when tragedy strikes, he needs a Christmas miracle to fulfill the one wish he never knew he wanted.
Joy Holliday believes in miracles.
She sees hummingbirds everywhere, and believes they are tiny messengers from Heaven. Despite losing her husband four years ago, she is determined not to dwell on the past, but to look to the future. Her entire world revolves around taking care of her daughter, Piper, and ensuring she has a magical Christmas. In Glacier Creek she finds Cole, a man still smarting from the wounds of his past, determined to keep happiness at arms' length. Can she save Christmas and show him the promise of a future with her?