A Husband She Couldn't Forget by Christine Rimmer: After leaving Valentine Bay nine years ago for New York for her dream job, Aly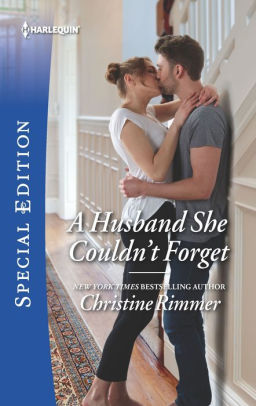 Santangelo is returning home to help her forty-eight-year old mother, who is pregnant and on bed-rest. A car crash on the way into town causes her to lose her memory of the last seven years, and she refuses to believe her family when they tell her that she and Connor have been divorced for seven years. The family, despite not liking how Connor ended it with Aly, enlist his help to break the news to her.
Connor has never stopped loving Aly, but the last thing he expects is for Aly to suggest she stays with him while she recovers. She believes him when he tells her they're divorced, but she also feels like they need closure. He agrees, hoping he'll get a second chance even though he doesn't think he deserves one. But when Aly's time is up and she has to make the choice to stay or leave, will she stay? Or will Connor finally put Aly first and go to New York with her?
Despite knowing Aly's desire to pursue her career in New York, Connor never wanted to leave Valentine Bay. His family was there, and his family business was there. Instead of telling Aly, he let it build up and then sent her divorce papers without even trying to work it out. For most of the book it seemed like Connor had matured since then. He was wonderful with Aly and even with her family, who were still angry with him. Then Aly says she has to return to New York to take care of some things, and old the Connor resurfaces. It was a little disappointing. After the way he acted for most of the book, it felt like that was thrown in to create some drama between the pair, which wasn't really necessary. He does manage to redeem himself though, which I was happy to see.
Aly, even with her memory loss, is stubborn and determined. She knows what she wants and that's Connor, even if most of her family can't understand why. I liked how she wasn't afraid to go for what she wanted.
A Husband She Couldn't Forget is a wonderfully written story about second chances. It will draw readers in from the beginning and keep their attention throughout the book, and will have them rooting for Aly and Connor. Readers who enjoy second chance romances will enjoy this one.
Book Info:

Publication: September 17, 2019 | Harlequin Special Edition | Bravos of Valentine Bay #5
Aly Santangelo's car accident left her with no memory of the past seven years—not her move to New York, nor her divorce from Connor Bravo. Connor reminds the vulnerable beauty that they're no longer together, even as he lets her into his home—and his bed. But when unchecked passion leads to an unplanned pregnancy, Aly vows to play for keeps!