Handle With Care by Helena Hunting: Lincoln can't wait to escape New York and head back to the work he's doing that actually matters. He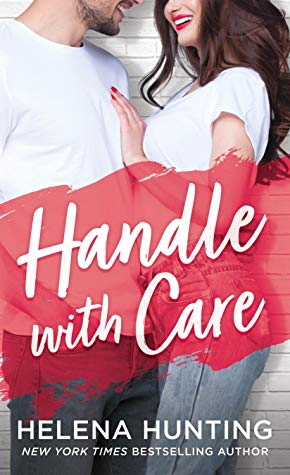 can't stand his dysfunctional family, outside of his cousins and grandma, or the world they inhabit. He's sexy, gruff, caring, generous, and smart. He wants no part of the family media company or the drama that comes with interacting with his mother and idiot brother.
Wren would love to work for a non-profit, but she's making a name for herself as the go-to person for PR. She's smart, savvy, takes crap from no one, and knows martial arts. As a favor, she's personally handling the PR and cleaning up the many, many scandals of Lincoln's younger brother. Between working, volunteering, and much needed girls' nights, she has no time for a relationship.
Lincoln dutifully attends the memorial for his father, but ends up agreeing to stick around for a few months to help run the family company. He's less than thrilled to fall for the guilt-trip and it's made even worse to learn that he has a handler. Wren has her work cut out for her with Lincoln and she enjoys telling him what to do and how to dress.
Wren glances at her phone. "I'm going to step out and grab a coffee. I'll be back in a bit."
"Do you really think that's a good idea? I mean, aren't you supposed to be supervising me? You wouldn't want me to have a go at this with an electric trimmer, would you?" I motion to my hair.
Wren clamps her mouth shut. "You wouldn't."
They bicker like an old married couple and push each other's buttons. It doesn't help that they are attracted to one another and spend most of their time together. Wren is persuasive and knows just how to cajole or threaten and Lincoln learns to pick his battles. One thing leads to another as they go from adversaries to lovers. They have more in common than either expected and he loves her sass.
"It would make the rest of this night a lot easier to manage."
"This seems an awful lot like coercion."
"You can call it that if you want. I'm sure it will give us something to argue about later."
Handle with Care is funny and sexy and book I didn't want to put down. Helena Hunting delivers strong characters, surprises, banter, heat, and romance. Ms. Hunting continues to develop an entertaining cast of characters. Handle with Care can be read as a standalone in the Shaking Up series. Fans of Christina Lauren, Penelope Ward, and Vi Keeland love Handle with Care.
Book Info:

Publication: August 27th 2019 | St. Martin's Paperbacks | Shacking Up #5
HE WANTS TO LOSE CONTROL.
Between his parents' messed up marriage and his narcissistic younger brother, Lincoln Moorehead has spent the majority of his life avoiding his family. After the death of his father, Lincoln finds himself in the middle of the drama. To top it all off, he's been named CEO of Moorehead Media, much to his brother's chagrin. But Lincoln's bad attitude softens when he meets the no-nonsense, gorgeous woman who has been given the task of transforming him from the gruff, wilderness guy to a suave businessman
SHE'S TRYING TO HOLD IT TOGETHER.
Wren Sterling has been working double time to keep the indiscretions at Moorehead Media at bay, so when she's presented with a new contract, with new responsibilities and additional incentives, she agrees. Working with the reclusive oldest son of a ridiculously entitled family is worth the hassle if it means she's that much closer to pursuing her own dreams. What Wren doesn't expect is to find herself attracted to him, or for it to be mutual. And she certainly doesn't expect to fall for Lincoln. But when a shocking new Moorehead scandal comes to light, she's forced to choose between her own family and the broody, cynical CEO.