A Little Bit Wicked

is a lively, sexy, fun read that kept me glued to my seat, unable to put it down.
London 1866
Marcus Kincaid is back in London after ten long years spent working in Africa as a tour guide.  He has never forgotten the passionate kiss that he shared, in a case of mistaken identity, with Vivian March.  When his sister is found in a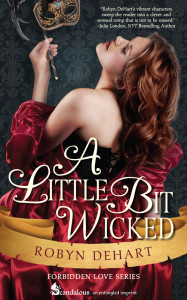 compromising position it is Vivian that he turns to to help him restore his sister's good name.
Vivian March, also known as the Paragon, is well known in society for her ability to help others who have found themselves in scandalous situations.  She is reluctant at first to admit to the kiss that her and Marcus shared because she is afraid that her reputation may be ruined.  Marcus is not willing to let her forget, it is obvious to him that Vivian has been hurt in the past.  Can he help Vivian to get overcome her past to see that she is the only woman for him?
If you enjoy a fast paced read with vivacious characters, witty dialogue, and romance that sizzles off of the page then A Little Bit Wicked is the book for you!
Rating: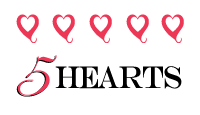 Book Info:
Publisher: Entangled Publishing (Scandalous) (December 2, 2012)
Marcus Kincaid has returned to England after a ten-year absence as the Earl of Ashford after his brother's untimely death. Unfortunately, his younger sister is embroiled in a potential scandal that could ruin her chance at marriage, and his aunt has already called in reinforcements—The Paragon.
Vivian March is known simply as The Paragon. She moves through every circle within Society, smoothing out scandals and stopping gossip in its tracks. Everyone in London knows that if she aligns herself with you, Society will forgive your sins. What they don't know is that she uses their secrets to cover her own jaded past.
But with every kiss and every touch that Marcus thrusts upon her, Vivian comes to believe life is infinitely more fun when you can be just a little bit wicked…