The stories in Naughty and Nice are hot & heartwarming. Stories about love that has to be accepted and chances that have to be taken if they truly want to be with the person they love.
ROOM AT THE INN by Ruthie Knox:
Carson Vance has not been at Potter Falls in a very long time. He is now back after he receives the message that his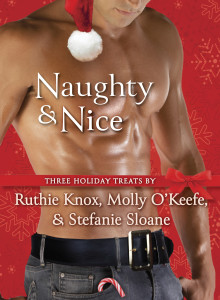 father is really ill and no one can help him but him.
Julie has always been in love with Carson, and with the town he took her to after his mother was ill. But after she offered to donate a kidney for his mom, Carson was not happy about the risk she was taking. After seeing her recuperating in the hospital, he couldn't take how weak she looked and he left her there and went back to school.
Now after everything that happened, Julie doesn't want to take a chance on Carson again, but that does not stop her from loving him. And the chemistry between them has not diminished at all. It will take a lot for Carson to convince Julie to take a chance on him and prove that he will want to stay with her forever now.
ALL I WANT FOR CHRISTMAS IS YOU by Molly O'Keefe:
While this is a short story it was really nice and hot.
Maddy Baumgarten and Billy Wilkins have been in love for a while now. She is days from turning 18 and he is 20, and the want to get married for her 18th birthday.
Maddy is a good girl from a good family, while Billy had rough past he is hard trying to get past. But he is simple in his ways and not many understand him or love him the way she does. But she wants her parents approval for their wedding, so he does what she asks and asked her father for her hand. While her father approves, her mother doesn't. Now Maddy has to make a choice, the man she loves or do what her mother asks.
ONE PERFECT CHRISTMAS by Stephanie Sloane:
Jane has been recently jilted by her fiancée and her way to cope is to turn to her dear friend Lucas Cavanaugh. But the chemistry between them is something that Lucas does not expect. So he decides to flee to Scotland.
Now when the Christmas season arrives and bring them back together he will have to show her his intentions are honorable is he wants a chance at making her his. Little does he know that she has been in love with him too. The fun part is to see who will convince whom of the love they share and to take a chance.
Publisher: Loveswept (November 5, 2012)
Rating