No Mistletoe Required

by Jeanette Murray is a sweet and emotional novella.
Dan Beckins doesn't celebrate Christmas since he lost his parents on Christmas day when he was a child. And the closer he is to the holidays the more moody he gets. But this year his friend conned him into volunteering to build Santa's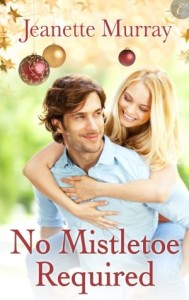 Winter Wonderland at the Children's Hospital. While he is reluctantly there helping, he enjoys watching Anna Smith, the leader of the college Kappas volunteering there too.
Anna loves Christmas and she has been volunteering at the Children's Hospital for the past 4 years to build Santa's Winter Wonderland. After having leukemia as a teen and being in the hospital she know how much of a difference this makes on al the children there. This year she has found a side project, Dan is like the Grinch during Christmas and she wants him to enjoy her favorite season like she does.
Both Anna and Dan are very attracted to one another, but each keeps the most traumatic events of their lives hidden from others. They both have to open up about their past and learn to live with what happened if they want to have a chance at happiness with each other.
If you are looking for a sweet fun romance then this story is for you.

Rating:
Book Info:
Publisher: Carina Press (November 5, 2012)
Print Length: 71 pages
Dan Beckins isn't sure how he let his best friend con him into volunteering to build Santa's Winter Wonderland at the local hospital. He's got no problems with charity work, but anything Christmas-related is off-limits ever since he lost his parents on Christmas Day years ago. The only bright spot is working with smoking-hot Anna Smith.
Anna Smith loves Christmas and volunteering at the hospital is one of her yearly highlights. She had leukemia as a teen and then a breast cancer scare in her mid-twenties, and is now operating under a self-imposed rule that she can't have a relationship until the doctors give her a clean bill of health.
A little fling might be permissible, though, and sexy lawyer-turned-carpenter Dan seems like the perfect candidate. But when chemistry flares and the two start forming a real connection, will Anna run away before like turns to love?