In A Love to Call Her Own (Tallgrass #3) by Marilyn Pappano deals with the issues of depression, grief, ptsd and what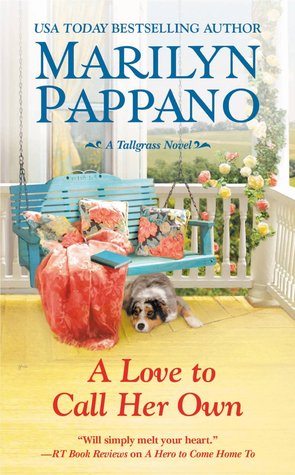 happens to the family and loved ones of those left behind.
Jessy has coped with her Husbands Death by hitting the bottle and picking up nameless men for meaningless hook-ups. The one positive in her life is the Margarita Club, a group of women who, like her, have lost their husbands. She is just trying to make it day by day and anything that will help her make it through is what she is going to do. Until one night with a stranger makes Jessy want to take a second chance on love.
Dalton's wife committed suicide after both her legs were blown off by a roadside bomb. Carrying his grief he has isolated himself on his ranch and avoided people preferring the company of his animals. The night that Jessy and Dalton had together haunts him until he can think of nothing but a future with the beautiful redhead that has invaded his dreams.
Jessy and Dalton both have baggage, they both have secrets, but together they manage to find the motivation to try to move on with their lives. The path is not always smooth sailing, but for them it works. I truly felt my heart breaking for these two and was hoping for them to win that second chance that they so richly deserved.
I gave this touching story 4 stars,
Book Info:

Published August 26th 2014 by Forever | (Tallgrass #3)
It's been two years since Jessy Lawrence lost her husband in Afghanistan, and she's never fully recovered. Drowning her sorrows didn't help, and neither did the job she'd hoped would give her a sense of purpose. Now trying to rebuild her life, she finds solace in her best friends, fellow military wives who understand what it's like to love-and lose-a man in uniform . . . and the memory of one stolen night that makes her dream of a second chance at love.
Dalton Smith has known more than his fair share of grief. Since his wife's death, he revels in the solitude of his cattle ranch. But try as he might, he can't stop thinking about the stunning redhead and the reckless, passionate night they shared. He wasn't ready before, but Dalton sees now that Jessy is the only woman who can mend his broken heart. So how will he convince her to take a chance on him?