In Night Unbound (Immortal Guardians #5) by Dianne Duvall, Lisette d'Alençon and her two brothers have been Immortal Guardians for over two centuries. In that time she has battled vampires to keep humans safe, wondering when, if ever, she will find someone to abate the loneliness that has plagued her. So when Lisette realizes she is attracted to Zach, a man her leader has deemed a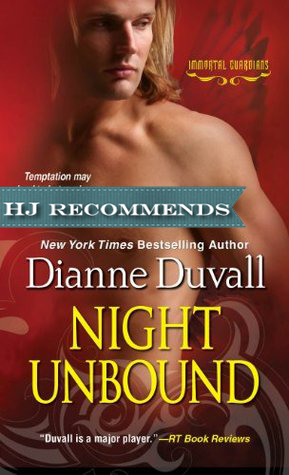 traitor, she hides her feelings for him but can't stop looking to see if he's perched atop rooftops, watching out for her. Then Zach begins to appear in her dreams, showing her a gentleness only she can see. Lisette can't stand to see his name tarnished by her fellow Guardians and fights to not only change their minds about Zach, but to help him become one of them as well.
"Why couldn't I have found you two hundred years ago when you were first made immortal," he murmured, and felt her smile against his chest.
Zach couldn't believe his good fortune when he came across Guardian Lisette and recognized the intense draw they have for each other. He's spent millennia hoping to find a path away from the Others and their dismal view of interacting with humans, vamps, and Guardians. Lisette is his only beacon of light as he is savagely beaten and held captive by those who are his supposed brethren. Zach knows once he escapes and finds his way into her arms, he will do absolutely everything in his substantial power to keep her safe. Even if that means forgiving her leader Seth who has made his life difficult for centuries.
"I cringe every time a battle arises. And my inner Neanderthal awakens whenever I think you're in danger."
"Your inner Neanderthal?"
He nodded. "I believe you met him when I ordered you to never defy me again."
She winked. "Your inner Neanderthal gave me multiple orgasms."
And wanted to give her more.
Night Unbound is another great addition to the Immortal Guardians series where we finally get more details on female guardian Lisette, and her love interest, the mysterious Zach.
I've said it before and I'm sure I'll say it again: I truly enjoy a story with a tough yet feminine heroine. And that is exactly what we get with Lisette. She's fully trained in martial arts and can kick the butt of any vampire she comes across. But she also has a very loving, caring side when it comes to her family and friends. I thought it was pretty funny that Zach was turned on by her ability to fight her own battles but he also wanted to sweep in and protect Lisette. They had a great relationship, one which fulfilled something inside them as they both had been incredibly lonely over the years. It was touching to see equally strong characters have such tender moments together. They also had some really sexy times together, as well… 😉
Book five was every bit as interesting and complex to me as previous stories in this series. The plot is an ongoing one that builds with each new installment, so you can read this as a standalone, but it would make more sense if you read these in order. I loved that we got to see all of the Guardians again here and we catch up with what they are doing. The storyline kept me guessing until the end as to who was behind the latest threat against Seth and his Guardians. And as always with Dianne Duvall's writing, the action scenes were fast with just the right amount of gore, and the characters kept a cool balance of being fun and ready to kick ass at a moment's notice.
If you like your paranormal romances with lots of action scenes, a bit of mystery, and a hero & heroine who are meant to be together for all time, I think you'll enjoy Night Unbound.
Book Info:
4 Stars HJ Recommends No Michele H
Published September 2nd 2014 by Zebra | (Immortal Guardians #5)
"Duvall is a major player." –RT Book Reviews
Dianne Duvall's Immortal Guardians protect humanity from unspeakable horrors–but their hearts are as fragile as any mortal's. . .
For centuries, Lisette d'Alençon has been a warrior against the dark. She fights alongside her brothers and comrades. But when the dreams start coming, she can't bear to confess them to the Immortal Guardians' command. Dreams of a dark-haired man with soft eyes and brutal wounds, a man her heart aches for–and a man she knows has been declared a traitor.
Zach is an exile, a loner. He won't defend himself against false accusations or grovel to those who should have faith in him. But he'll damn sure defend the woman who kept him sane against a plague of super-vamps that seems to have appeared from nowhere. The Guardians will blame him, and that will make Lisette suspect, too. With life, death and eternity on the line, who can they really trust?
"The Immortal Guardians series is one you'll want to follow." –The Romance Review
"These dark, kick-ass guardians can protect me any day!" –Alexandra Ivy on Darkness Dawns
"Whizzing along at light speed. . .this sophomore effort sizzles." –Publishers Weekly on Night Reigns